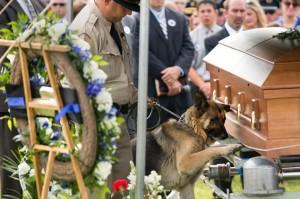 Man's best friend and a brother in blue — two unbreakable bonds, even after death.
Figo, a police dog, bowed his muzzle and reached his paw out to touch the smooth wood of a casket. On the other side lay K-9 Officer Jason Ellis, 33, who died five days earlier in an ambush.
As a canine, Figo could never understand all that goes into keeping Bardstown, Ky., safe. But the human toll in the line of duty, the loss of a friend… he got that.
"Figo was almost giving him that final hug goodbye. I think that picture brought more tears than anything," Bardstown Police Chief Rick McCubbin told the Daily News.
Their connection was palpable before Ellis' burial at High View Cemetery in the nearby town of Chaplin. Together, Ellis and Figo made a dent in the local community's drug problem over the last few years, McCubbin explained.
"Ellis knew that Figo was a great partner," McCubbin said. "When you are a canine cop you have one of the best partners in the world. He had the dog for several years and his boys basically grew up with Figo around."
McCubbin retired Figo from service Friday so he could live with Ellis' family, providing the young boys a connection with their father.
In the days after his death, officers transformed a cop car parked in front of their station into a memorial. Other well-wishers held candlelight vigils, organized a fund for Ellis' family and established a scholarship for students wishing to pursue law enforcement.
Another memorial service took place on the Glen Este High School baseball field, where Ellis wore No. 5 before playing minor league baseball.
"If this world had a lot more Jason Ellis out there, we wouldn't have these kinds of tragedies," said childhood friend Jason Meenach. "I can only hope they find the person who did this and justice is brought."
~ Courtesy of the NY Daily News
Tags: Dog Behavior, dog emotion, dog farewell, dog grieves owner, Police Dog