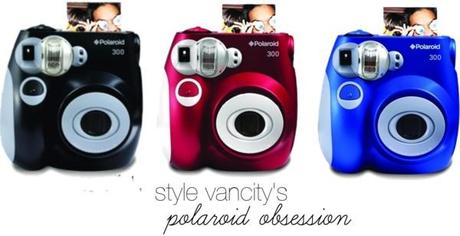 Polaroid Obsession by stylevancity featuring Polaroid beauty products
I don't know about you, but I really like polaroid cameras for some reason. Maybe its cause of their instant artsy gratification, small-size and wide array of colours. At times I think it serves more as an accessory rather than the simple point and shoot. 
Personally, I own Fujifilm's Instax Mini 7s, a small compact polaroid that produces credit card sized souvenir photos. I bought mine on sale for around $70 CAD at London Drugs compared to the usual $100 at Urban Outfitters. While the camera itself wasn't a huge investment, the film costs nearly $1-2 a piece which seems like an overwhelming recurring expense. As a result, I don't use my polaroid as much as I'd like to and I feel pressured to get the perfect shot the first time round.
Nevertheless, I still enjoy taking it to parties, get-togethers or to my local park just to have substantial memories of some of life's precious moments.