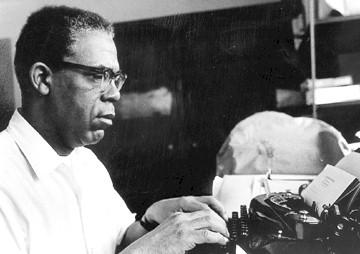 Dudley Randall (January 14, 1914 – August 5, 2000) was an African American poet and poetry publisher from Detroit, Michigan. He founded a publishing company called Broadside Press in 1965, which published many leading African American writers. Randall's most famous poem is "The Ballad of Birmingham", written during the 1960s, about the 1963 bombing of the church Martin Luther King, Jr. belonged to in Birmingham, Alabama. Randall's poetry is characterized by simplicity and realism.
He developed an interest in poetry during his school years. At the age of thirteen, his very first published poem appeared in the Detroit Free Press.
He wrote one of his famous poems, Ballad of Birmingham, in response to the 1963 bombing of a Baptist church in which four girls were killed. Randall established the Broadside Press in 1965. The first collection by the press was Poem Counterpoem (1966). He then published Cities Burning (1968) in response to a riot in Detroit. It was a group of thirteen poems. Another fourteen poems appeared inLove You in 1970, followed by More to Remember in 1971 and After the Killing in 1973. Some of his well-known works are: Ballad of Birmingham, A poet is not a Jukebox, Booker T. and W.E.B., and The Profile on the Pillow.
He received a Poet Laureate of the City of Detroit in 1981 by Mayor Coleman Young. He died on August 5, 2000 in Southfield, Michigan.
___
Dudley Randall's Ballad of Birmingham depicts an African-American mother and her daughter conversing about a "Freedom March" in the streets of Birmingham. The young child asks permission to participate in the march, but her mother objects and describes the dangers that exist for the freedom marchers. Instead, she is sent to church, which is perceived to be a place of safety. Soon, after the daughter leaves for church, an explosion is heard. The mother unfortunately discovers that her daughter's life has been taken from her in one violent act of racism. Consequently, the mother must accept reality and cope with the loss of her child.
Ballad of Birmingham
Mother dear, may I go downtown
Instead of out to play,
And march the streets of Birmingham
In a Freedom March today?"
"No, baby, no, you may not go,
For the dogs are fierce and wild,
And clubs and hoses, guns and jails
Aren't good for a little child."
"But, mother, I won't be alone.
Other children will go with me,
And march the streets of Birmingham
To make our country free."
"No, baby, no, you may not go,
For I fear those guns will fire.
But you may go to church instead
And sing in the children's choir."
She has combed and brushed her night-dark hair,
And bathed rose petal sweet,
And drawn white gloves on her small brown hands,
And white shoes on her feet.
The mother smiled to know that her child
Was in the sacred place,
But that smile was the last smile
To come upon her face.
For when she heard the explosion,
Her eyes grew wet and wild.
She raced through the streets of Birmingham
Calling for her child.
She clawed through bits of glass and brick,
Then lifted out a shoe.
"O, here's the shoe my baby wore,
But, baby, where are you?"
38.073533
-75.560779