After 20 years, Poetrix poetry magazine is about to publish its 40th and final issue!
Poetrix began in 1992 when the Western Women Writers group decided to start a poetry magazine just for women. This was at a time when the NSW Poets' Union had just completed a survey showing that women were still not being published as much as men. There was evidence that some male editors were being discriminatory in their selections, with one quoted as saying he wasn't interested in publishing "domestic suburban vignettes".
After being published in my TAFE magazine a couple of times, Poetrix was my first outside publication. What a joy it was to receive that first acceptance letter! 
harmful purpose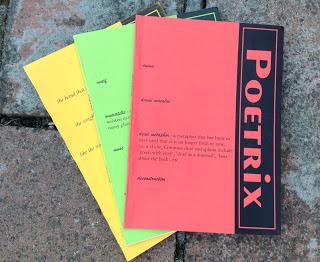 i cut myself, and
bleed
memories
of hopelessness
recurring dreams
nightmares
of repetition
darkness and shadows
a storm
in my mind
thoughts
like razor blades
slash me, with
sharp edges and
harmful purpose
first published in Poetrix 28, May 2007
Submissions are by mail only and close on 28th February.
send no more than 6 poems at a time

do not forget to include a self addressed, stamped envelope for reply

poems should be typed, and if longer than one page this should be clearly indicated

if poems are in a language other than English, please supply a translation

a short bio note would be appreciated.
Send your poems to:
POETRIX
PO Box 532
Altona North
VIC 3025
I'll certainly be submitting to this final issue of

this very special magazine -

why don't you?
What have you got to lose?