It's been a while since my last audio podcast.  This one has some tips for players and coaches who want to improve their own speed or that of their team.  Be sure to check out the show notes underneath when you are done listening.  Let me know what you think in the comment section below.  The podcast is just over 26 minutes long.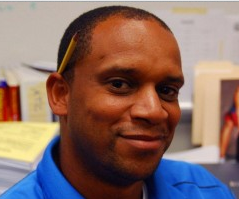 Coach Jay Jones
Show Notes:
Take away items from the interview:
Although "fast" is generally something you are born with, "speed" is definitely something a player can improve on.

Incorporating distance training is beneficial for general fitness and stamina for workouts but dynamic and explosive training drills are a must for a player wishing to improve their useable speed in the game of baseball.

Go to YouTube and search for speed drills and other workouts sprinters use.  Tweak them for baseball use.

Talk to your track coach and tap into their expertise!!  They are the experts so don't ignore the wealth of knowledge that is so close to you.

As mentioned by Coach Jones, www.stack.com is a great resource for athletes and coaches in any sport.

Stay tuned for more Baseball By The Yard posts and videos that will give more detailed information on many of the things discussed in today's podcast.
What are your thoughts about this podcast?  Anything to add?  Use the comment section below if you do!