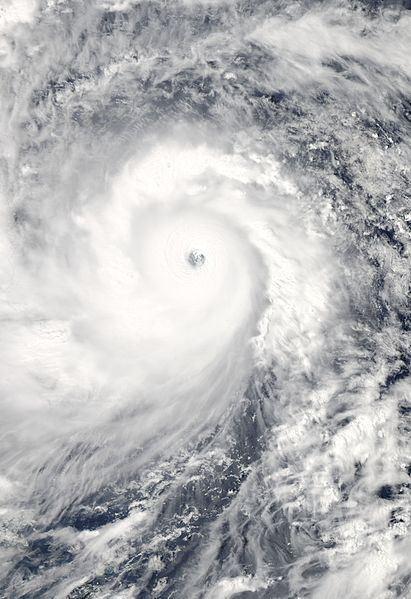 Super Typhoon Haiyan as it approaches the Philippines
A week ago, on November 7, 2013, Typhoon Haiyan — a Category 5 Super Typhoon and the strongest tropical cyclone to make a landfall on record with winds of 195 mph — hit the islands of the Philippines.
________________
Side note: The word "typhoon" is the transliteration of the Chinese expression "big wind."
________________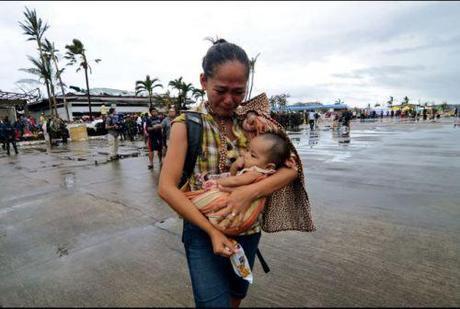 Put simply, Philippines is devastated.
Typhoon Haiyan wrought catastrophic destruction in central Philippines, particularly on Samar Island and Leyte, where cities and towns are largely destroyed. According to UN officials, about 11 million people have been affected and many are left homeless.
It is estimated that at least 10,000 people may have died in the city of Tacloban alone. "I don't believe there is a single structure that is not destroyed or severely damaged in some way — every single building, every single house," U.S. Marine Brig. Gen. Paul Kennedy said after taking a helicopter flight over the city. He spoke on the tarmac at the airport, where two Marine C-130 cargo planes were parked, engines running, unloading supplies.
Below are the before and after DigitalGlobal images of Tacloban: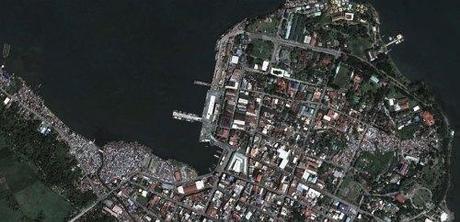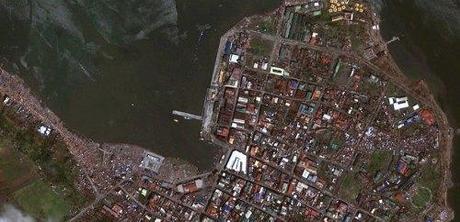 If the death toll is confirmed, this would be the deadliest natural disaster on record in the Philippines.
The Philippines is a poor country, with a (nominal) per capita GDP of only $2,792. Even before Typhoon Haiyan, the people of the Philippines outside of the glittery capital of Manila already were living in desperately poor conditions, unimaginable to Americans.
More than 90% of the people of the Philippines are Christians, about 80% of whom are Roman Catholics.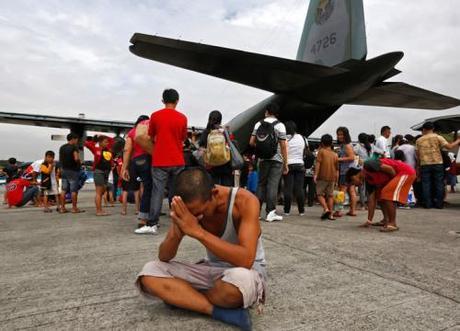 Your devastated brothers and sisters in Christ on the Philippines need your help, no matter how small a sum you are able to give.
Here are links to the major charities:
FOTM received an email appeal from reader-commenter Mark Tipton, who lives in the Philippines:
Dr. Eowyn,
The Foundation I am rebuilding here is the Webb Vocational Institute at present though soon to become a foundation. We are working with Congresswoman Leni Robredo to insure we have the means to transport supplies, donations and hopefully construction materials to the sites where we will be working. We have recently begun working with the former International Director of Marketing for Microsoft and a former Formula One marketing professional but despite that, the financing for our primary goals and all of the SEC regulations here do take time.
In the meantime, having been seriously affected by storms like this in the past, we are seeking to do what we can to help personally. While most of the focus has been on Tacloban, we are working to avoid the chaos there and concentrating on smaller, equally devastated locations. In this way, we can circumvent a great deal of the bureaucracy that is holding up much of the relief effort and get to work. What we are seeking are cash donations but we are also working with two freight companies and one shipping company to lessen the burden of sending donations here. At present all we have confirmed is that http://pobox.ph/new/ will charge us for delivery only to Manila but still send the packages here to Bicol where we are. In the event of difficulty in traveling to more isolated locations, military vehicles will be at our (very limited) disposal to deliver the goods and any building materials that we can purchase with donations.
As for the donations, at present we have collection locations set up in Seattle/Bremerton; Daytona Beach; Denver, Colorado; and Beeville, Texas. For a viable option, if people want to send donations to the aforementioned website (webbvocationalinstitute.org), they can purchase goods online and send them there. We will handle shipping costs to Manila and they will then forward the goods to us here to be delivered and distributed.
We will need boots on the ground so if people there would like to come help but stay out of harms way, we are a good bet there as well. We have construction crews already in place and ready to go but are working diligently to garner some support.
Primary needs are dried goods, canned goods, clothing, flip flops, rain gear, bottled water, tents and tarps, baby supplies including diapers and formula and if anyone wants to send toys for the kids, electronics and games are not advisable but toys are always welcome as there really are a great many broken-hearted children right now. For more about our primary efforts, you can check out our website at webbvocationalinstitute.org.
With my thanks,
Mark Tipton
PLEASE HELP YOUR BROTHERS AND SISTERS IN CHRIST!
I have donated to Catholic Relief Services. Use your judgment when you donate. Click here for the website of Charity Navigator, which rates various charities.
And if you truly cannot afford to give even one dollar, please PRAY.
Thank you and God bless you,
~Eowyn