Penguins Report: Game Day vs. Ottawa (Game 2)

Friday, 05.17.2013 / 10:00 AM / Penguins Report
Pittsburgh Penguins



Comment



Print




No 58 or 27; Line adjustments
Vokoun starting
Locker room quotes
PensTV interviews
Pens practice pics
Super Duper
Cooke charity
Who is Malkin?
Sens round up
"We're talking away..."
---
SOUNDS HEARD AROUND THE ROOM
Dan Bylsma
Sidney Crosby
James Neal
Joe Vitale
--Sam Kasan
---
SENATORS ROUND UP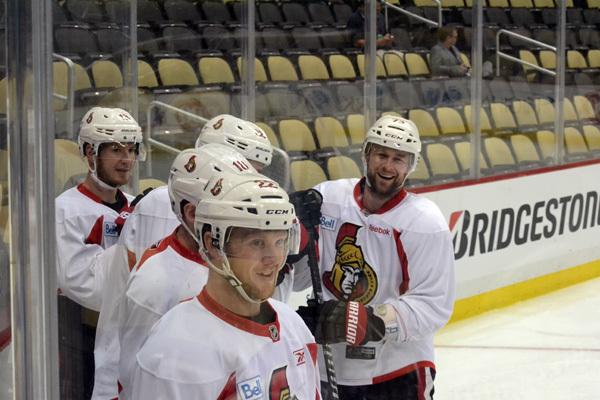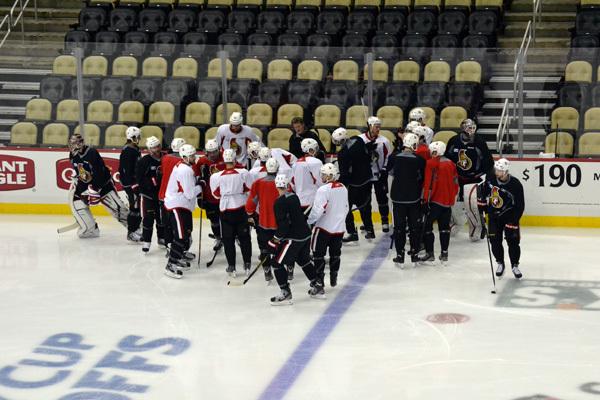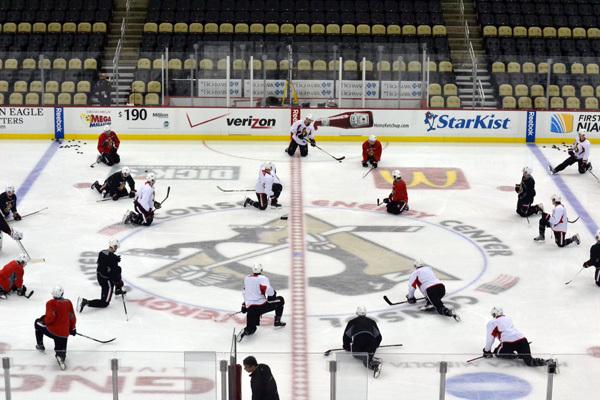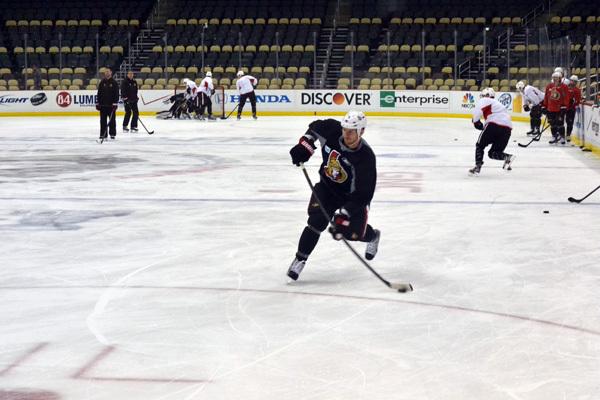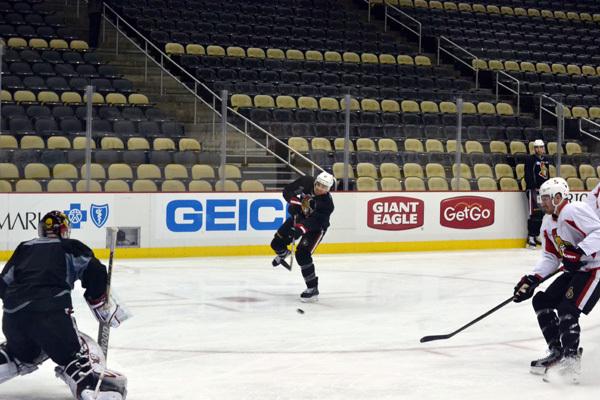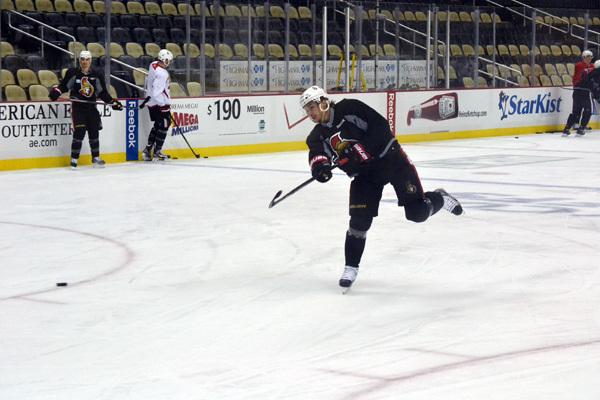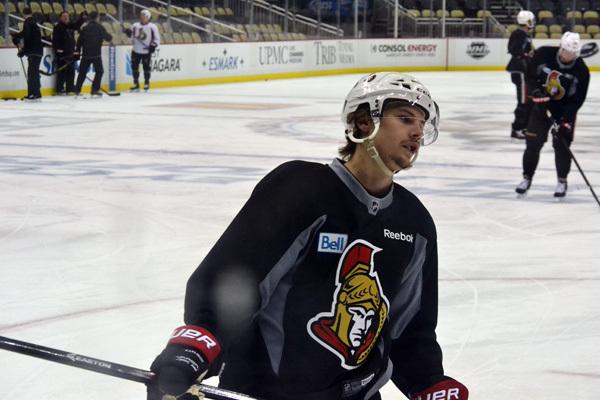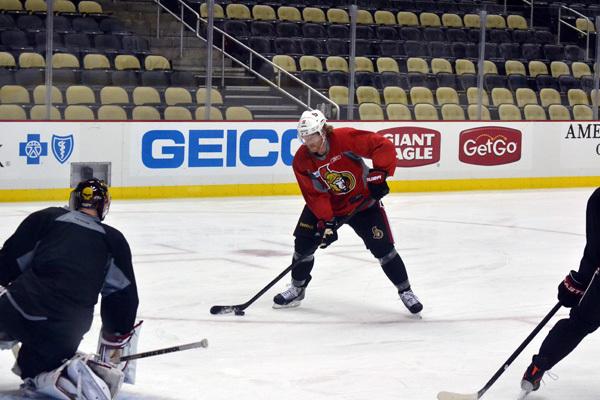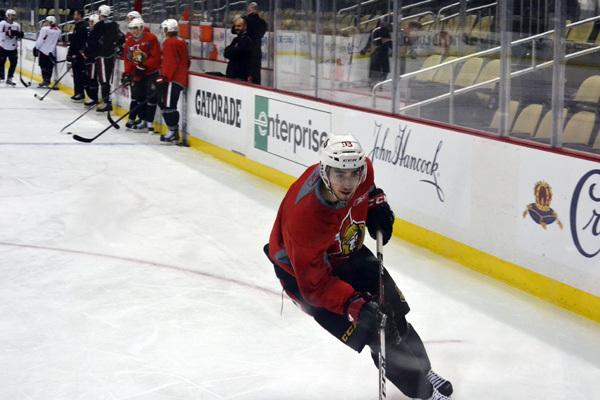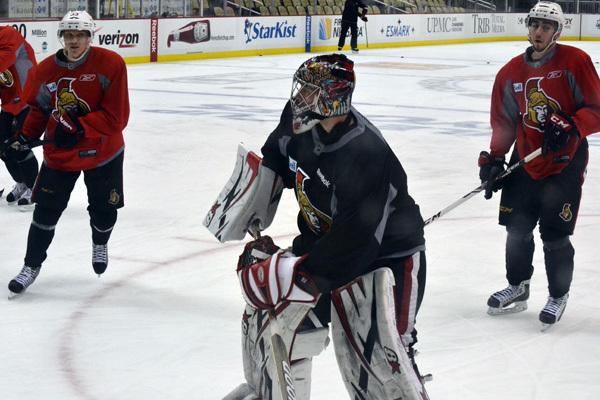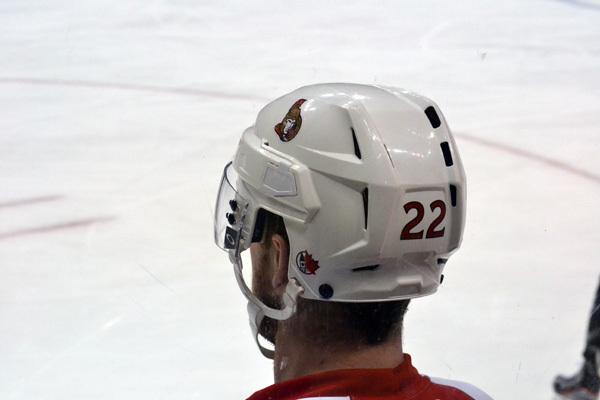 --Sam Kasan & Drew Hancherick
---
THEY SAID IT
Quotes out of the Penguins locker room...







--Michelle Crechiolo and Wes Crosby
---
VOKOUN STARTING
After practice Tomas Vokoun confirmed he will be starting in goal for Game 2.
"Just prepare for the game. No matter what, you prepare the same way," he said when asked his thoughts on his fourth consecutive start. "Nothing really changes. When you play, you just do everything (the same) and that's about it."
--Michelle Crechiolo
---
PENS PRACTICE PICS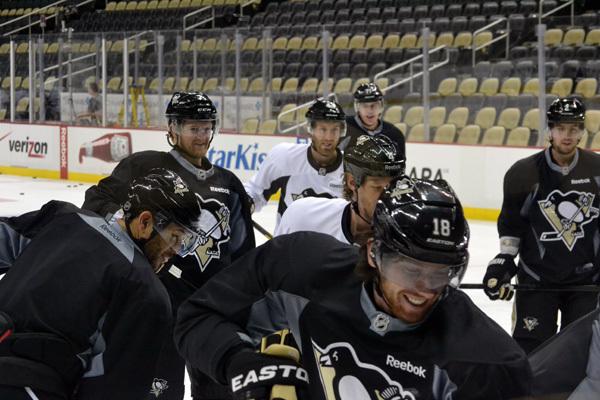 This may be one of the greatest photos ever used in the Pens Report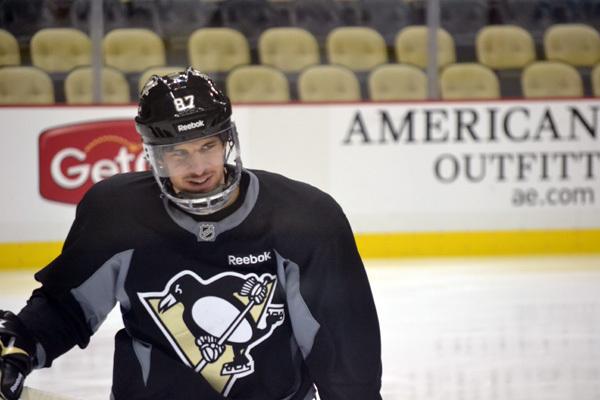 A smile and a mustache hides under that jaw protector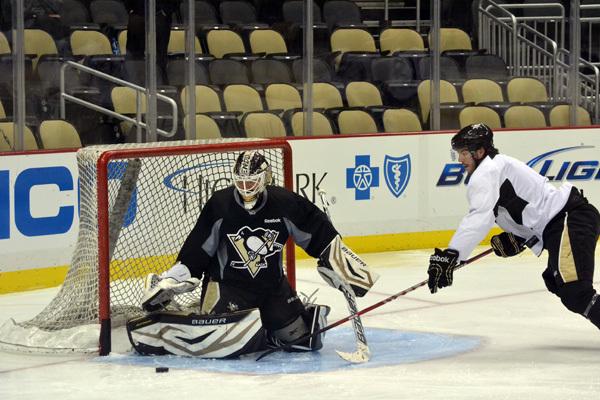 Despres tries to score on starting goaltender Tomas Vokoun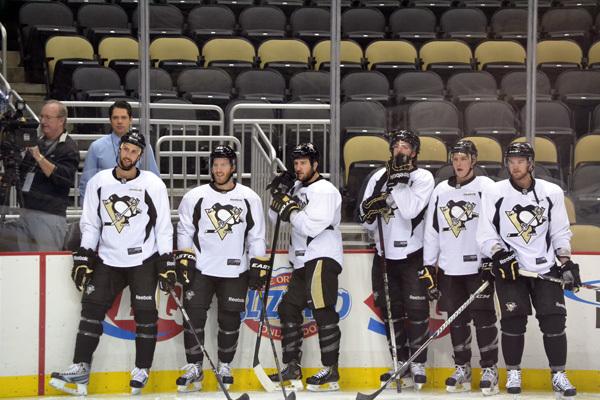 These Pens are all wearing matching white jerseys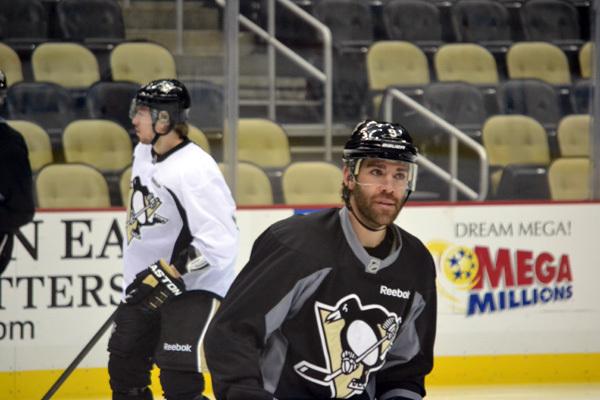 Dupuis' beard never fails to amaze me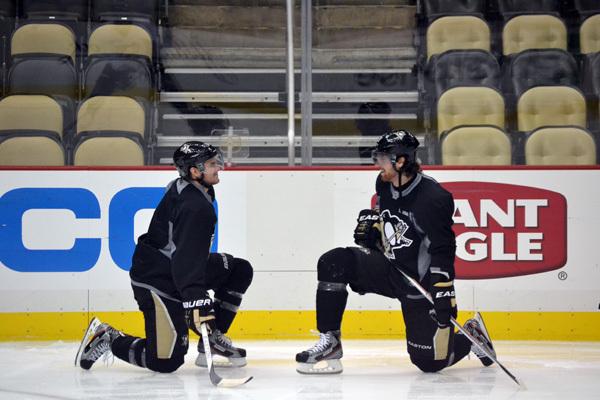 Kunitz and Neal stretch in the exact same spot every skate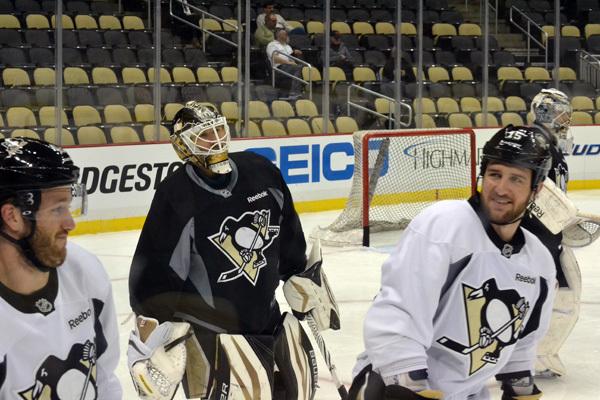 The expression on Joey V.'s face - "oh no, you didn't!"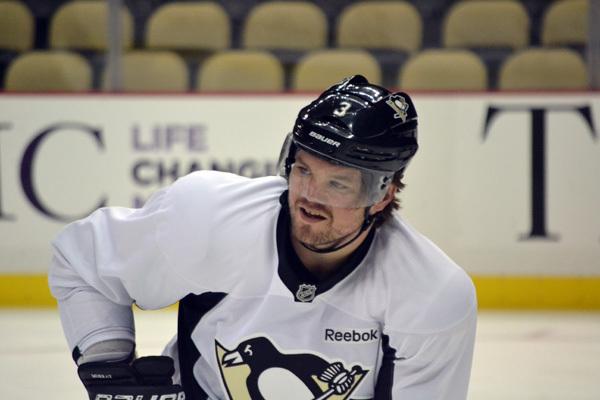 Douglas "Crankshaft" Murray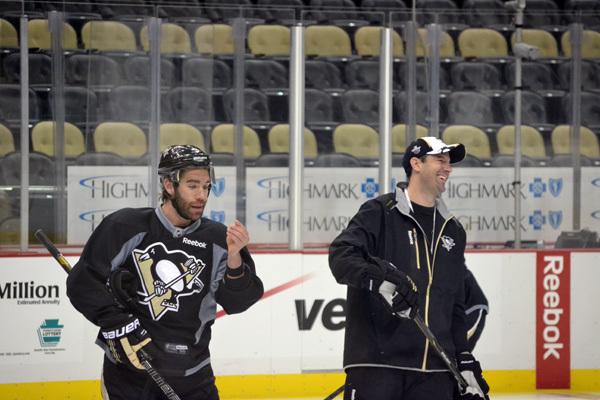 Dupuis inspects a hangnail while Reirden chuckles at a joke we'll never know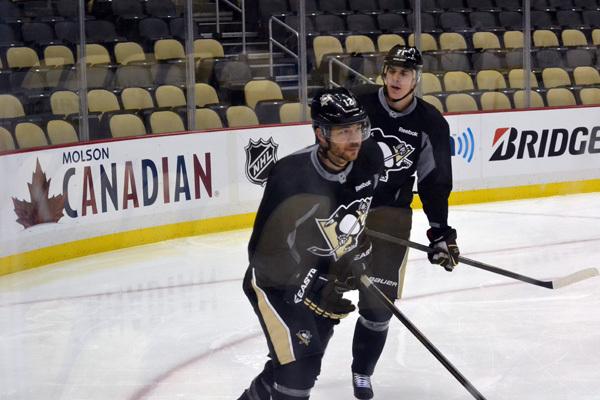 Linemates Jarome "Iggy" Iginla and Evgeni "Geno" Malkin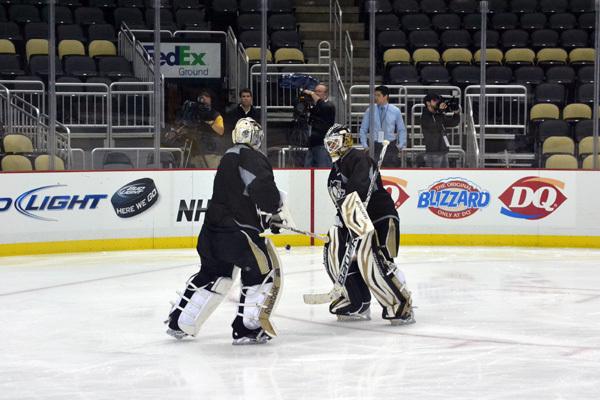 Goalie BFFs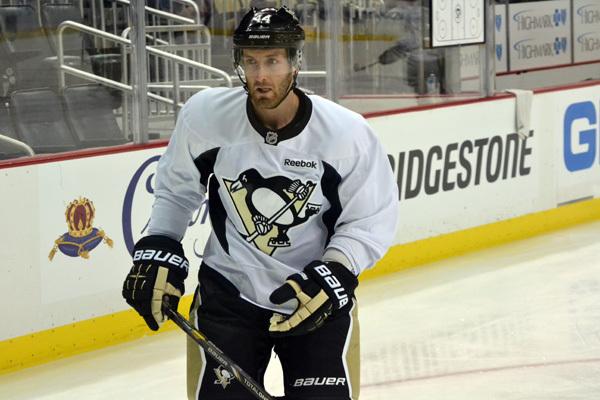 That is one withering stare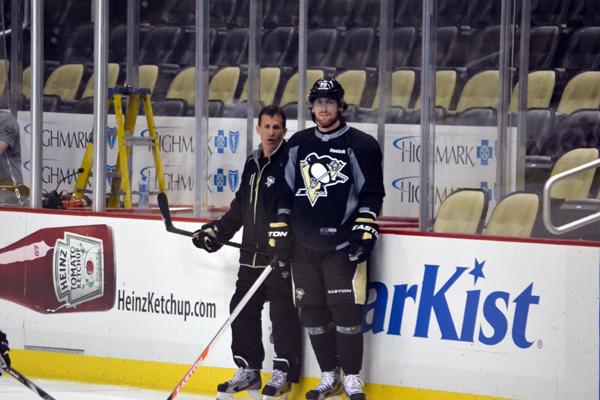 Tony Granato talks to Neal with a random ladder photobombing the shot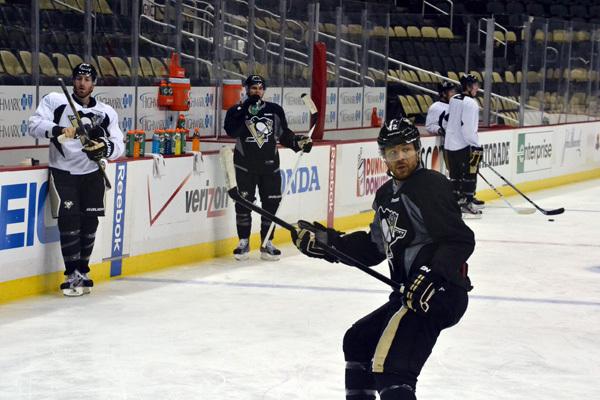 Iggy hard at work while Brooksy and Kuni take a water break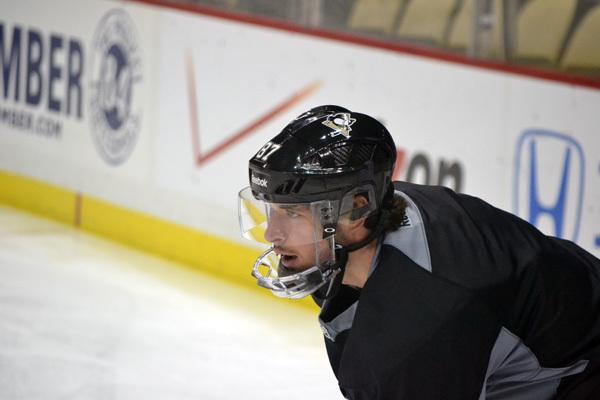 A tremendous shot of the captain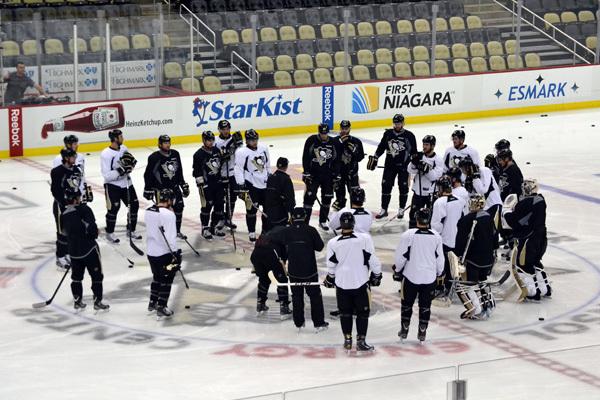 Group shot
--Michelle Crechiolo and Drew Hancherick
---
MORNING SKATE DEETS
Kris Letang and Craig Adams were the only two Pens players missing from the morning skate. Both were at practice Thursday. Jussi Jokinen and Mark Eaton were inserted in their spots.
Here is how things shook out...
Kunitz-Crosby-Dupuis
Iginla-Malkin-Neal
Morrow-Sutter-Cooke
Jokinen-Vitale-Kennedy
Martin-Orpik
Eaton-Niskanen
Murray-Engelland
(Despres-Bortuzzo)
1st PP: Martin, Iginla on points. Crosby, Malkin, Kunitz up front. (Halfway thru, Neal replaced Iginla with Malkin moving to point).
2nd PP: Niskanen, Dupuis on points. Neal, Morrow, Kennedy up front. (Halfway thru, Iginla replaced Neal and played point with Dupuis moving up front).
--Sam Kasan
---
WHO IS EVGENI MALKIN?
You know you've made it when you are the answer (or question?) in the game show Jeopardy! Major fail by Jed who guessed "Who's Crosby?" But big props to host Alex Trebek, who nailed the pronunciation of Geno's name.
I bet Sean Connery would have gotten the right answer. "Not so fast Trebek!"
--Sam Kasan
---
DUPUIS FINALLY GETTING RECOGNITION

Dupuis' skill was evident during the Penguins' first-round series against the New York Islanders, when he scored five goals through six games, including one in Pittsburgh's series-clinching 4-3 overtime victory in Game 6.
"I think he's always had the speed and strength," captain Sidney Crosby said, "but he's going to a lot of tough areas and he's getting opportunities to put it in the back of the net. So, I think his scoring touch is probably something that's developed a little more over the last couple years and with his speed, he's going to get into those situations and those positions."
Dupuis has enjoyed the most productive years of his career during the past two seasons, averaging 0.79 points per game this season and 0.71 the year prior. He attributes much of his success to playing alongside Crosby, but while the captain was sidelined for the final 12 games of the regular season, Dupuis continued to produce at a rapid pace – posting 12 points (3G-9A) during that period.
Full story here.

(Getty Images)
--Sam Kasan
---
CHARITABLE SIDE OF MATT COOKE
Most people only know one side of Matt Cooke - his tough, physical hockey side. What they don't see is the large amount of charitable work he performs with the help of team chaplain Brad Henderson.

After the service finished up, Cooke was touched and sincerely grateful when he learned that the team's Pittsburgh Penguins Foundation would be donating the proceeds of a 50-50 raffle from this season totaling $15,000 – along with a $10,000 grant of their own for a total of $25,000 – to the Pittsburgh Kids Foundation, a charity that Henderson is the president of and that Cooke is actively involved in.

Cooke traveled to Haiti for a humanitarian trip last August with Henderson through the Pittsburgh Kids Foundation, which has been dedicated to helping orphans in the country devastated by an earthquake three years ago (full story on the trip here). Cooke has experienced their sobering living conditions, so he knows just how much this will help the children he spent time with and grew to love.
"I think it's overwhelming, especially to have the support of the organization that employs me to stand behind me and get involved in the organizations that we're involved with," Cooke said. "The money that was raised, it goes without saying how much it means to not only the Pittsburgh Kids Foundation, but their involvement in Haiti and what that can provide for kids without parents or a home down there."
Full story here.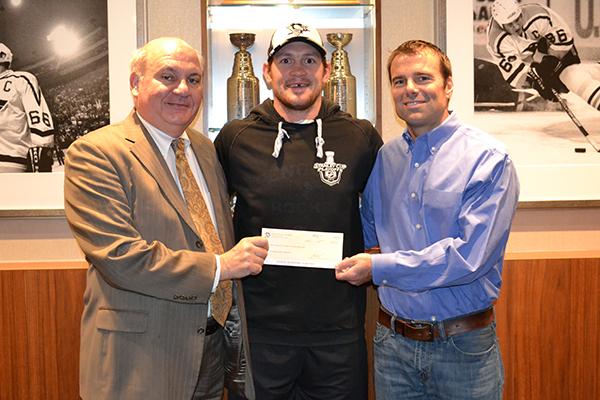 --Sam Kasan
---
START ME UP
Good morning Pens fans! Tonight Pittsburgh will host the Ottawa Senators in Game 2 of the Eastern Conference semifinals at CONSOL Energy Center at 7:30 p.m. The Pens will take the ice at 10:30 a.m. for their morning skate. They made a few lineup changes at Thursday's practice. We'll see if those hold for today. The Sens have the ice at 11:30 a.m.
Stay right here for the latest news and coverage to get you ready for Game 2!!
KIPPER'S SONG FOR THE GAME
Jermaine Jackson - All Revved Up from the Beverly Hills Cop II SDTK. I went super cheesy today because I just watched Beverly Hills Cop II the other day and the title seemed like something the Pens crowd at cEC needs to be tonight