Penguins Report: Game Day vs. NY Islanders (Game 5)

Thursday, 05.09.2013 / 10:12 AM / Penguins Report
Pittsburgh Penguins



Comment



Print



Morning skate deets
Vokoun, Fleury talk Game 5 goalie sitch
Vokoun's shot
Pens locker room quotes
Isles locker room quotes
PensTV interviews
Pens practice pics
Isles practice pics
Pens optimistic
Sid & Lindsay
"Give me the beat boys and free my soul..."
---
SOUNDS HEARD AROUND THE ROOM
Tomas Vokoun
Marc-Andre Fleury
Dan Bylsma
Sidney Crosby
Jarome Iginla/Paul Martin
Pascal Dupuis/Chris Kunitz
--Sam Kasan
---
VOKOUN, FLEURY TALK GAME 5
Today we spoke to both Penguins goaltenders about the situation in net for Game 5. Tomas Vokoun is taking over for Marc-Andre Fleury and will be first playoff starting goaltender whose last name does not translate to "Flower" for the Penguins since Johan Hedberg in 2001.
It's been six years since goaltender Tomas Vokoun played in the NHL playoffs. And he felt that he may never again have that opportunity.
But that chance became a reality Wednesday morning when head coach Dan Bylsma informed him that he would be the Penguins starting netminder in Game 5 of the Eastern Conference quarterfinals against the New York Islanders Thursday night at CONSOL Energy Center.

And Vokoun is going to take it all in. "I'm going to enjoy it. I wasn't sure if I would ever get a chance to play again in the playoffs," Vokoun said. "It's nice to have the chance. You play hockey to be in this moment. You don't play hockey for morning skates and taking shots."
Full story here with comments from both Vokoun and Fleury.
--Michelle Crechiolo
---
THEY SAID IT - ISLES VERSION
Quotes out of the Islanders locker room...





--Michelle Crechiolo and Wes Crosby
---
THEY SAID IT - PENS VERSION
Quotes out of the Penguins locker room...









--Michelle Crechiolo and Wes Crosby
---
ISLANDERS PRACTICE PICS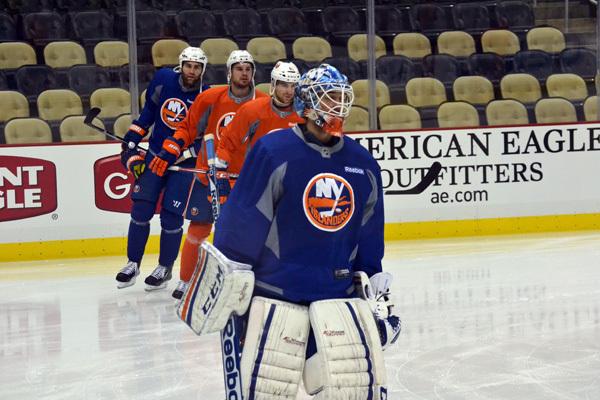 Follow the leader with Kevin Poulin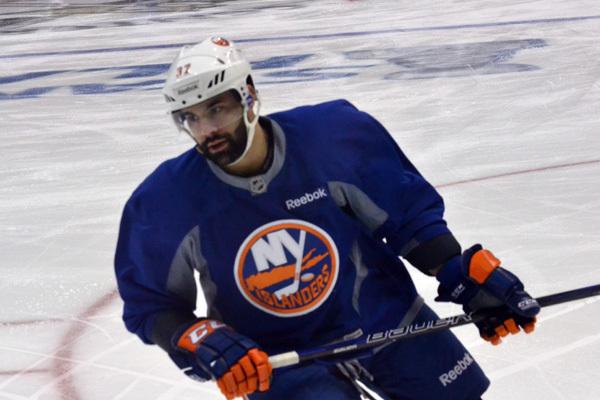 Brian Strait may slot up into the top D pairing with Travis Hamonic with Andrew MacDonald likely out due to injury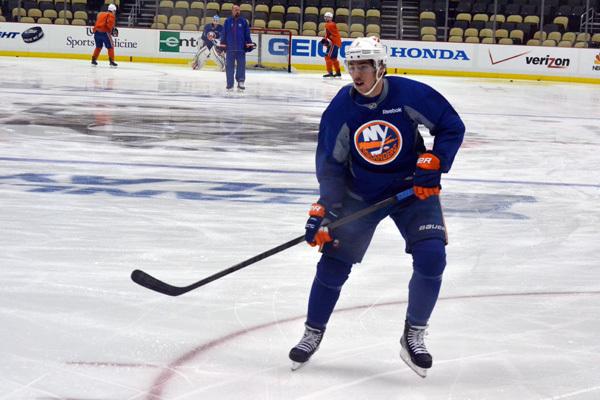 Speaking of Hamonic...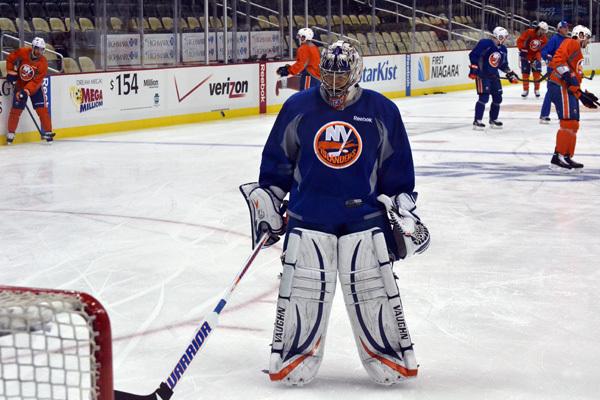 Tonight's starting goalie Evgeni Nabokov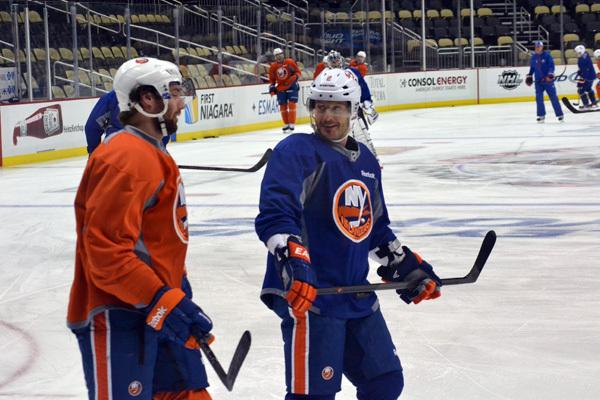 Isles captain Mark Streit scored two goals in Game 4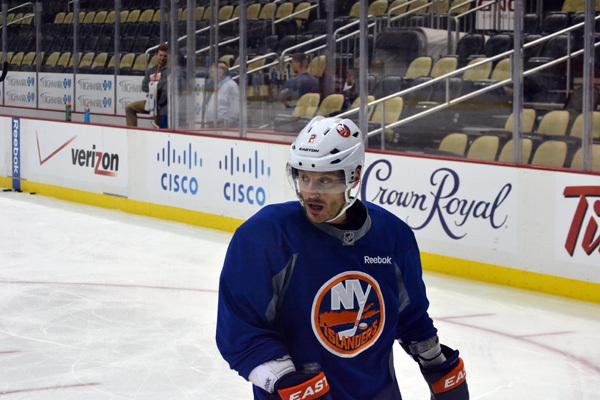 Another one of Streit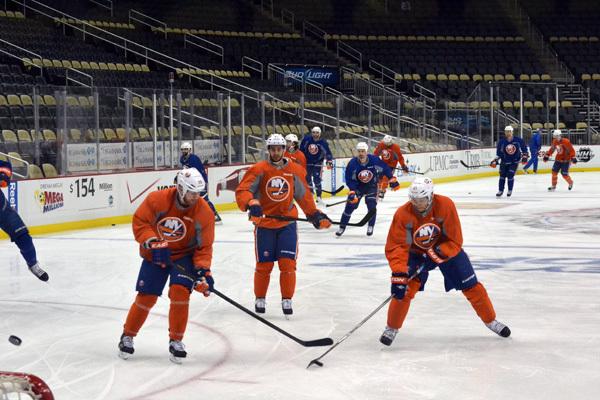 Nielsen supervises as Okposo and Aucoin go for a puck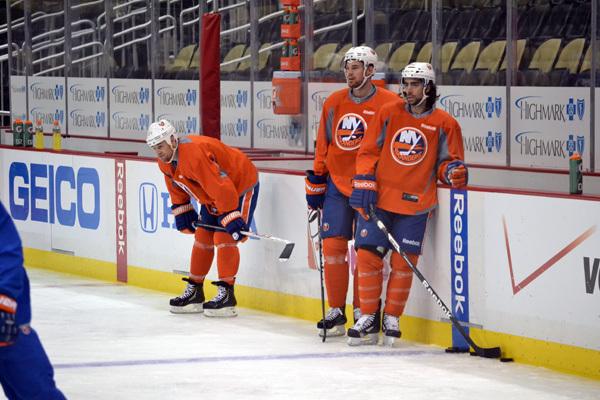 Matt Moulson and his hair wait to join a drill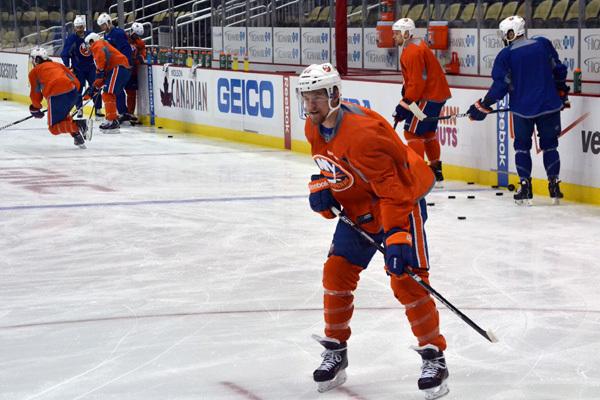 Noted speedster Michael Grabner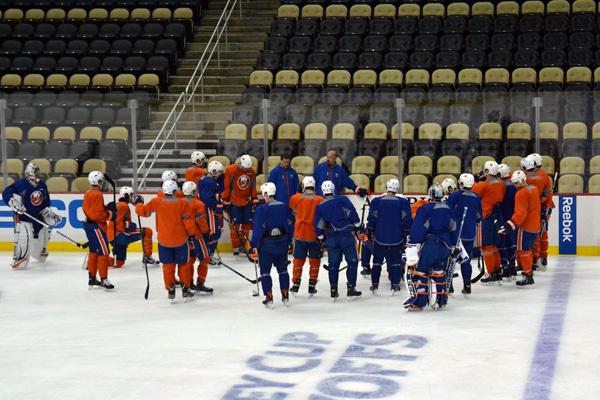 Group shot!
--Michelle Crechiolo and Drew Hancherick
---
PENS PRACTICE PHOTOS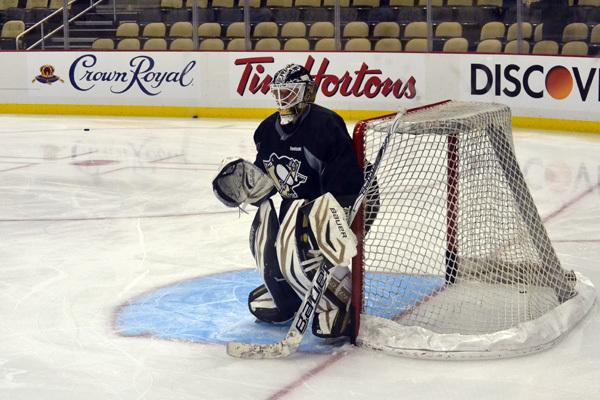 Tonight's starting goalie Tomas Vokoun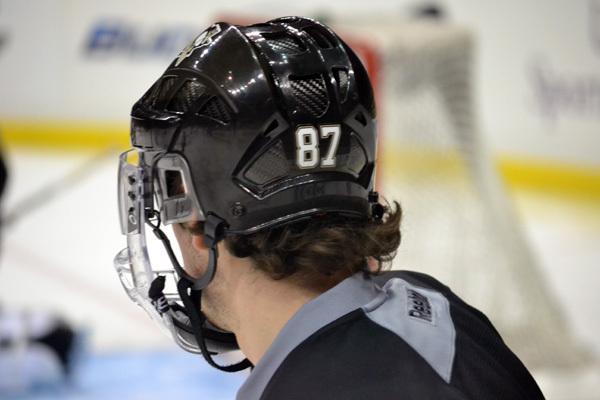 Not only are the guys growing playoff beards, they're growing their hair too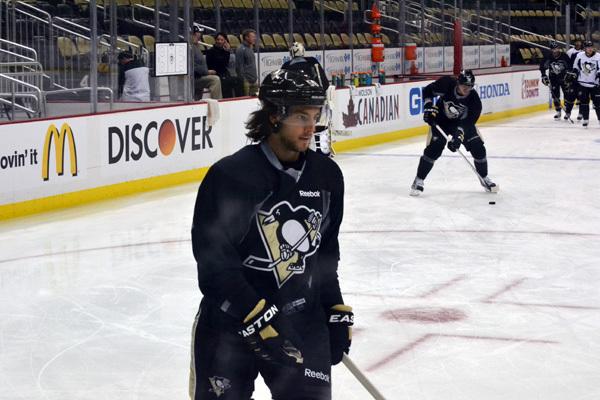 Except for this guy. He is always rocking the flow.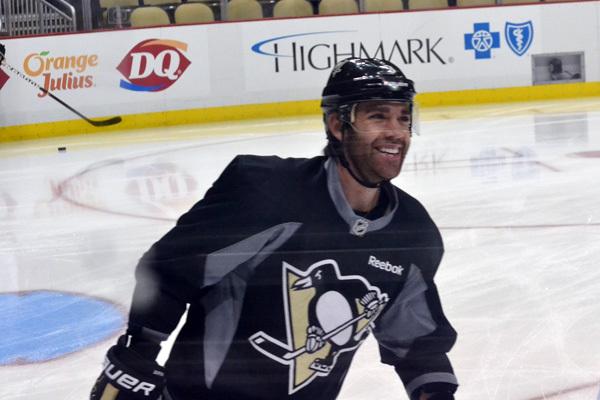 Pascal Dupuis is feeling good going into Game 5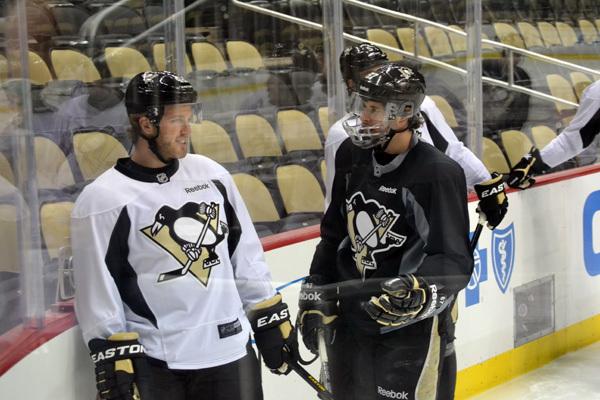 Sid has a chat with Joey V., who skated on the fourth line in rushes and may make his postseason debut tonight.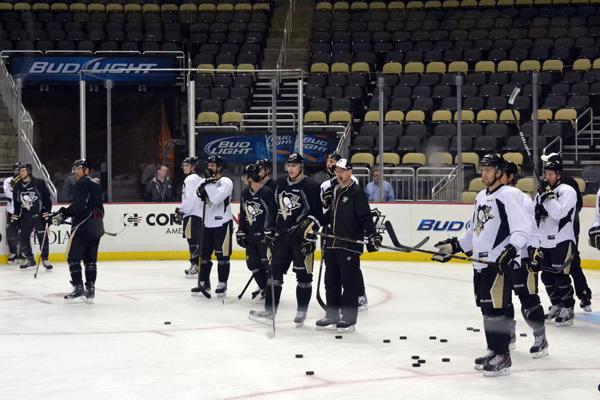 The Pens began morning skate by warming up the goalies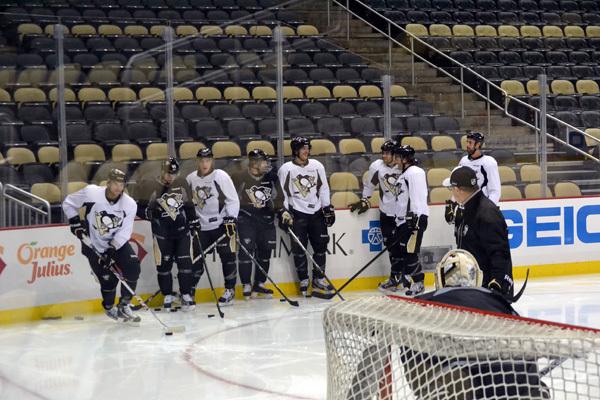 Working with Fleury at one end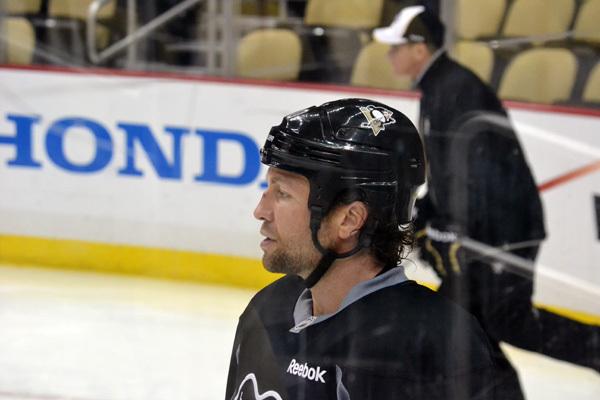 Close up of Morrow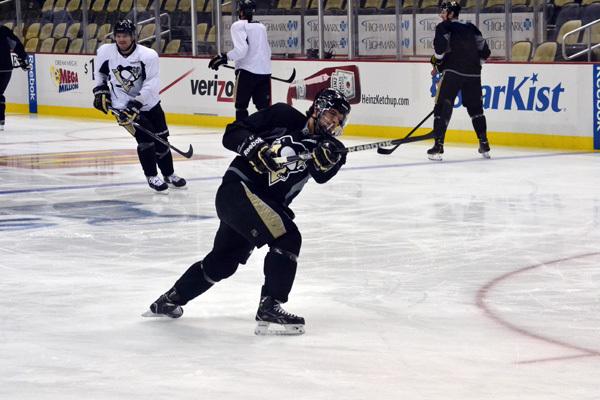 Crosby with perfect form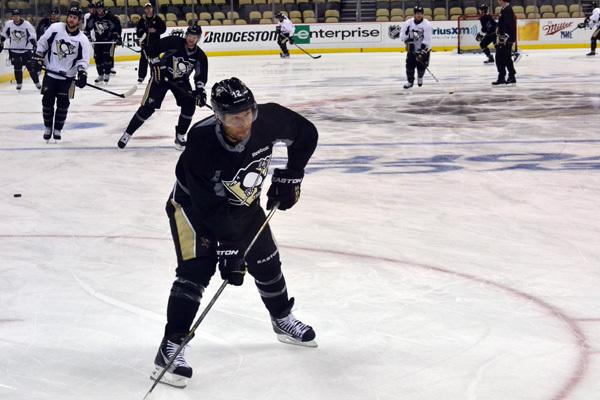 Iginla takes a shot as well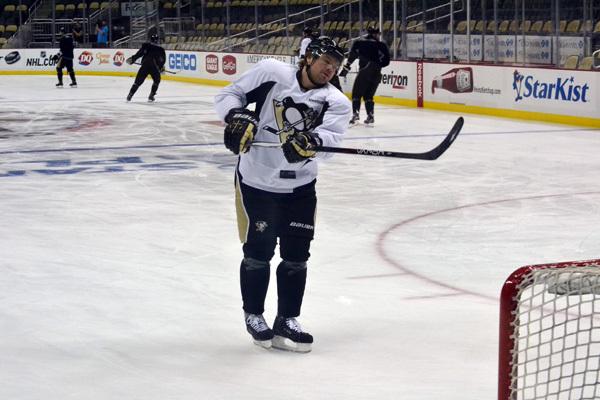 The man, the myth, the legend -- Douglas Murray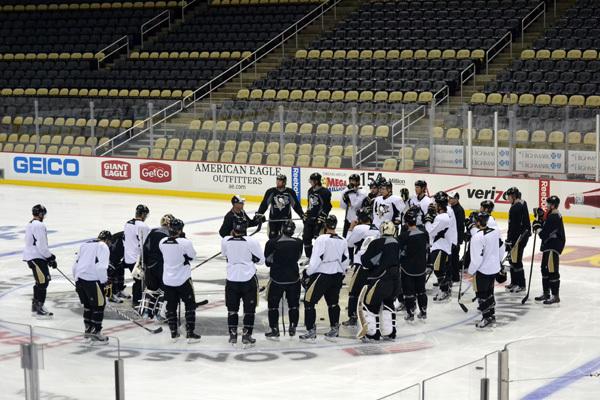 Group shot!
--Michelle Crechiolo and Drew Hancherick
---
MORNING SKATE INFO
All the Pens hit the ice for the morning skate. Everyone accounted for.
From the morning skate line rushes it looks like there are a few changes. Neal has moved to left wing while Iginla has shifted to right wing. Also the fourth line had Adams, Vitale and Kennedy. IF Vitale plays that would add some speed that the Penguins have lacked against the Islanders. Lastly, Despres skated with Letang.
Here are the rushes:
Kunitz-Crosby-Dupuis
Neal-Malkin-Iginla
Morrow-Sutter-Cooke
Adams-Vitale-Kennedy
Glass-Jokinen-Bennett
(Jeffrey)
Orpik-Martin
Murray-Niskanen
Despres-Letang
Eaton-Engelland
(Bortuzzo)
PP 1: Letang, Iginla, Crosby, Malkin, Kunitz/Neal
PP 2: Niskanen, Martin, Dupuis, Kennedy, Morrow
--Sam Kasan
---
TED LINDSAY NOMINEE
Pens captain Sidney Crosby has been nominated for the Ted Lindsay Award.
Crosby, 25, is vying to win the second Ted Lindsay Award of his career. He won his first during the 2006-07 campaign.
Crosby had arguably the most dominant year of his career, finishing the season ranked third (tied) in scoring with 56 points (15G-41A), despite missing the final 12-plus games of the regular season due to a broken jaw suffered on his first shift March 30 against the New York Islanders.
At the time of the injury, Crosby held a 10-point lead in the scoring race over Tampa Bay's Steven Stamkos. It took 25 days before St. Louis finally passed him for good on April 24.
Full story here.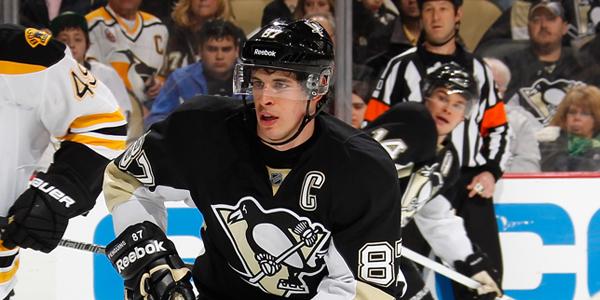 (Getty Images)
--Sam Kasan
---
PENS OPTIMISTIC
The glass is half full for the Pens. Some refreshing stuff from Michelle Crechiolo.
Iginla even went so far as to say that Tuesday's defeat and the situation they are in now is not the end of the world. In fact, this could just be the beginning.
"I think this could be great for us," he said. "I think that guys are still very confident and it's hard, it's a battle out there and the Islanders are playing great. I mean, they're playing aggressive and we plan on matching that and finding a way to win this series. I think this could be great for us."
Full story on the road.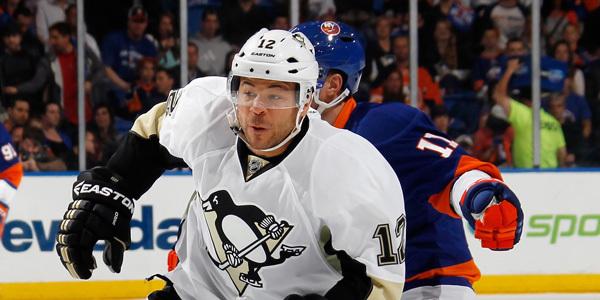 (Getty Images)
--Sam Kasan
---
VOKOUN TAKES OVER
But the biggest story of the game will take place between the pipes. The Penguins are starting netminder Tomas Vokoun - who will become the first goalie to start a playoff game for Pittsburgh other than Marc-Andre Fleury since Johan Hedberg in 2001.
Full story on Vokoun's start here.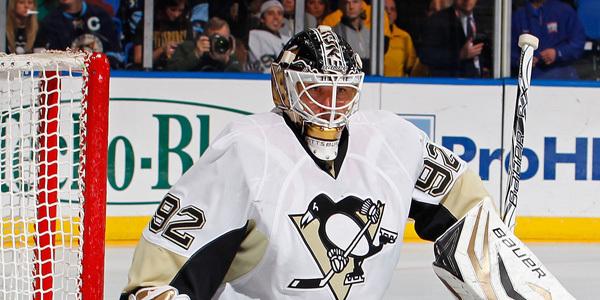 (Getty Images)
--Sam Kasan
---
START ME UP
KIPPER'S SONG FOR THE GAME

Urge Overkill - Positive Bleeding.
The title of the song describes what I wantr to see from the Pens tonight. I want them to see them go out and give their all, bleed to win... plus it's a good song by Urge Overkill. not UO';s biggest song, that belongs to "Sister Havanna" and "Girl you'll be a woman soon" from the Pulp Fiction SDTK but it's a solid tune.