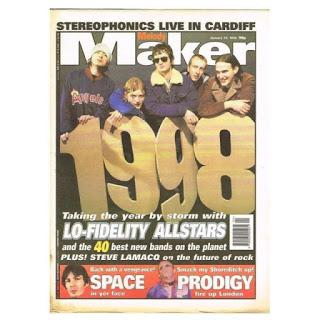 1998 was the year that we officially entered the "post-Britpop" era. The music became darker and less optimistic, but also more interesting and sonically inviting. Hearing this compilation takes me back to my teenage years, and the evenings spent in my bedroom with the music that offered me an escape and a sense of hope. Now, they remind me that I made it, and that over the years songs like these got me through testing times, and led me to where I am now. They remind me that anything is possible, and nowadays they soundtrack the sort of wonderful life that I always dreamed of having.
This playlist features the 100 best tracks from the year, compiled into an epic compilation for your listening pleasure.If you enjoy any of the songs featured here, we encourage you to support the artists by purchasing their music from your local record shop, or through online retailers.
You can stream the whole thing via YouTube below (plays automatically). A comprehensive list of playlists of music from 1998 can be found further down this page.

    The Boo Radleys - Blue Room In Archway

   

Pulp -

The Fear

   Manic Street Preachers - The Everlasting

   Mansun - Six (album version)

   

The Bluetones -

Solomon Bites The Worm

   Babybird - Bad Old Man

   The Jesus And Mary Chain - Cracking Up

   

Ian Brown -

My Star

   Embrace - Come Back To What You Know

    Ash - Jesus Says

    The Cardigans - My Favourite Game

   Gomez - Get Myself Arrested

   Garbage - Push It

   

Beastie Boys -

The Move
   

Skinny -

Failure
   

Kula Shaker -

Sound Of Drums 

   Belle and Sebastian - A Summer Wasting

   Massive Attack - Teardrop

   theaudience - Pessimist Is Never Disappointed

   

Pulp -

This Is Hardcore

   Placebo - Pure Morning

   Hole - Celebrity Skin

   The Dandy Warhols - Not If You Were The Last Junkie On Earth

   Harvey Danger - Flagpole Sitta

   

Elliot Smith -

Waltz #2 (XO)

    Manic Street Preachers - Ready for Drowning

   

Babybird -

I Was Never Here

    Eels - My Descent Into Madness

    Hurricane #1 - Only the strongest will survive

   Lodger I'm Leaving

   Babybird - If You'll Be Mine

   GORKY'S ZYGOTIC MYNCI - SWEET JOHNNY

   

Spearmint -

a trip into space

   MOVER FEAT. RUBY TURNER - We Got It Going On

   

Carrie -

California Screamin

   Puressence-This Feeling

   UltraSound - Stay Young

   Unbelievable Truth - Solved

   Gomez - Whippin' Piccadilly

   The Supernaturals I Wasn't Built To Get Up

   Idlewild - Everyone Says You're So Fragile

   Asian Dub Foundation - black white

   

Lo Fidelity Allstars -

Battleflag (feat. Pigeonhed)
   

UNKLE ft Richard Ashcroft -

Lonely Soul

   The Jesus And Mary Chain - I Love Rock 'N' Roll

   

The Boo Radleys -

Kingsize

   Manic Street Preachers - You're Tender and You're Tired

   theaudience - I Know Enough (I Don't Get Enough)

   The Divine Comedy - Generation Sex

   James - Destiny Calling

   

Levellers -

Shadow On The Sun
   

Bernard Butler -

Not Alone

   SHED 7 - HEROES

   

The Dandy Warhols -

Boys Better

   Garbage - I Think I'm Paranoid

   

Beastie Boys -

Putting Shame In Your Game
   

Asian Dub Foundation -

Buzzin'
   

Hurricane #1 -

Rising Sign
   

Mercury Rev -

Holes

   Delakota - The Rock

   Gorky's Zygotic Mynci - Let's Get Together (In Our Minds)

   Eels - Last Stop: This Town

   

Ash -

Wild Surf

   SHED 7 - DEVIL IN YOUR SHOES

   

Rialto -

Summer's Over
   

Gomez -

78 Stone Wobble
   

Paul Weller -

Brand New Start
   

Embrace -

That's All Changed Forever

   Manic Street Preachers - Be Natural

   PURESSENCE - IT DOESN'T MATTER ANYMORE

   Mercury Rev - Goddess on a Highway

   Dark Star - Graceadelica

   Stroke - Internal Call

   

The Clint Boon Experience -

White No Sugar

   Helen Love - Long Live The UK Music Scene

   The High Fidelity - Luv Dup

   Astral - Come And Go 

   Symposium - Impossible (Extended Version) (Audio)

   

Astronaut -

What You Gonna Do?

   The Delgados - Pull The Wires From The Wall 

   

Astrid -

Distance
   

Arab Strap -

(Afternoon) Soaps
   

The Divine Comedy -

The Certainty Of Chance
   

Stony Sleep -

Lady Lazarus

   R.E.M. - At My Most Beautiful

   Theaudience - If You Can't Do It When You're Young; When Can You Do It?

   Booth and The Bad Angel - Fall In Love With Me

   

Bernard Butler -

Stay

   The Bluetones - "If..." (Official Video) HD

   Super Furry Animals - Ice Hockey Hair (full length)

   

Pulp -

I'm A Man
   

The Boo Radleys -

Comb Your Hair

   Belle and Sebastian - Dirty Dream #2

   

Eels -

Climbing To The Moon
   

Lo Fidelity Allstars -

Vision Incision
   

UNKLE ft Thom Yorke -

Rabbit In Your Headlights

   Manic Street Preachers - Black Dog On My Shoulder (Audio)

   

Ash -

I'm Gonna Fall
   

Embrace -

The Good Will Out

   Whistler - If I Give You A Smile
More 1998 playlists:
The Best Of January/February 1998 PLAYLIST + ROUND-UP
The Best Of March 1998 PLAYLIST + ROUND-UP
The Best Of April 1998 PLAYLIST + ROUND-UP
The Best Of May 1998 PLAYLIST + ROUND-UP
The Best Of June 1998 PLAYLIST + ROUND-UP
The Best of July 1998 Round Up + Playlist
The Best of August 1998 PLAYLIST + ROUND-UP
The Best Of September 1998 PLAYLIST + ROUND-UP
The Best Of October 1998 PLAYLIST + ROUND-UP
The Best Of November 1998 PLAYLIST + ROUND-UP
The Best Of December 1998 PLAYLIST + ROUND-UP
1998 Volume 12 PLAYLIST