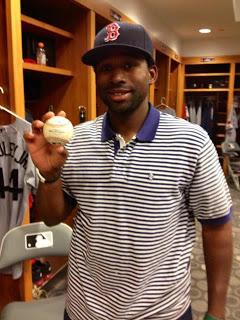 It was another easy win for the Red Sox on Wednesday night in the Bronx, a 7-4 victory over the Yankees.
Clay Buchholz was stellar over seven innings, and Jackie Bradley got his first MLB hit and RBI, a single in the third inning. (With thanks to Ed Achorn of ProJo for the cool pic of Mr. Bradley.) The Sox scored early and often and it was 6-0 after three innings.
So, are the Red Sox that good or are the Yankees that inept? Too early to answer that, obviously. But the Red Sox have never trailed in the first two games. They are winning games with contributions from everyone. It was also the first time they have won their first two games since 1999, and the first time they won their first two opening games in the Bronx since 1935. However, this was only the 6th time the Sox have opened their season in the Bronx since then. (Thanks for that stat, Jere.)
I was hoping that the Red Sox could open the first six games in New York and Toronto with at least a 3-3 start. They have now already won their first series of the year, and a sweep tonight would already accomplish a .500 road trip at the very least.
It was also once again a night of many empty seats late in the game at Yankee Stadium, as it was cold (41 degrees at game time), but the optimism is not high in New York right now. The best team in the city right now is the Mets, and young Matt Harvey pitched a dandy at Citi Field, striking out ten in a 8-4 Mets win over the Padres.
The Red Sox will be playing with the house's money tonight, with Ryan Dempster making his Red Sox debut.  Just in case, where did I hide my broom?