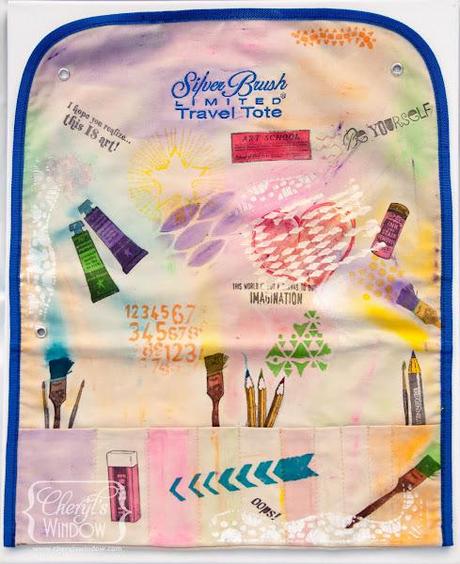 Today's view into my studio is a project I created for Faber-Castell Design Memory Craft®. I am honored and thrilled to be a Guest Designer this summer with Faber-Castell Design Memory Craft®. Faber-Castell is so much fun to play with and works with all different forms of mixed media. I cannot wait to see what Faber-Castell will have at CHA. I'll try to post CHA updates on my Cheryl's Window Facebook page too, so don't forget to become a fan. For this project, I took time to just play with many of the different Faber-Castell products. While creating this, I'll admit I made mistakes along the way, but I learned from them and I had a lot of fun experimenting and embracing the act of playing in color. Isn't that what this art journey is supposed to be about too?
My inspiration piece was a new brush travel tote I just received and some Wendy Vecchi Stamps. I knew these would work so well together. I know myself well enough to know that I will spill paint, drop a stamp, lay a wet stencil upside down, or any of these things when I am working. I know my brush tote will end up looking a wreck sooner or later, so I decided to give it a head start.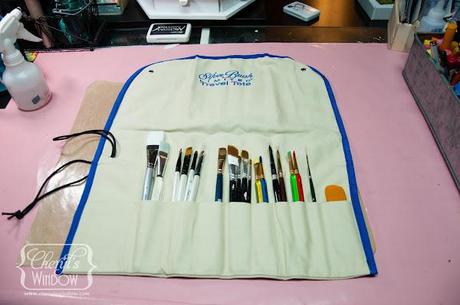 Here is my new tote with no marks on it…yet.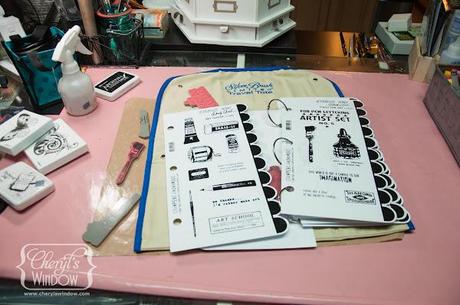 I pulled out some of my favorite stamps by Wendy Vecchi. Aren't they perfect for this?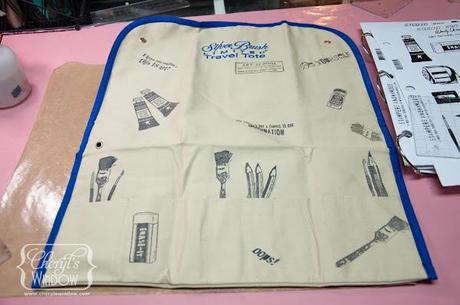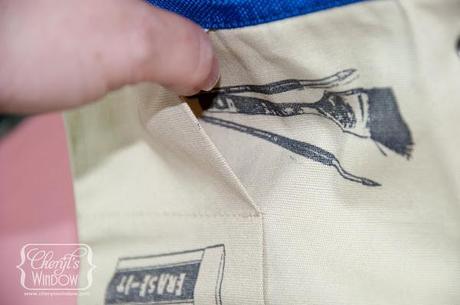 Look how I opened the brush pockets and carefully slid the stamps down in the pocket before pressing down to stamp the actual image. It is so cute.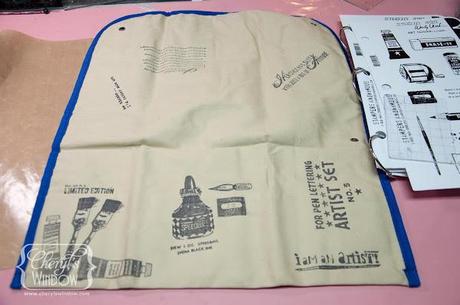 I did stamp these with Ranger Archival Ink and then heat set all the images. It looks good, but I can show you how Faber-Castell can make it look even better.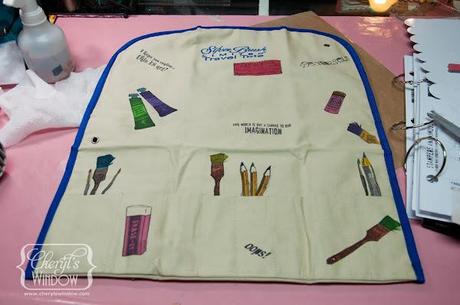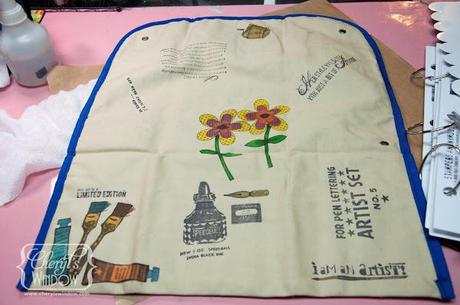 I used Stamper's Big Brush Pens, PITT® Artist Pen(s) and Metallic PITT® Artist Pen(s) to color in many of the images. I chose to color with these pens because these pens are India Ink, which is wonderfully waterproof when dry. I almost stopped right here because this was gorgeous to me. However, my inner child was screaming for more color and something that looks like it has been used for a long time.
After heat setting all the colored images, I started randomly washing the tote with Gelatos™ Colors mixed with water.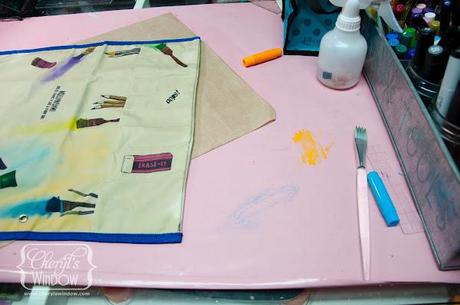 Here you see where I scribbled some Cotton Candy Gelatos™ and Mango Gelatos™ on my nonstick craft mat. I spritzed the Gelatos™ Colors with just a little water and then brushed the color like watercolor on the tote.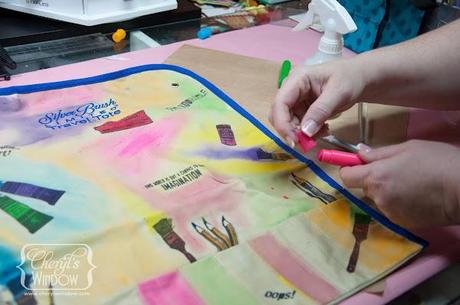 I wanted streaks of paint to look like paint streaks, so I scraped little shavings off from my Gelatos™ Colors directly onto the tote. I brushed these with a damp brush to get a streaky paint look. You will also notice washes of bright color coming from each of the paint brushes. I used the Stamper's Big Brush Pens to scribble some color and then blended immediately with a wet brush. You can still blend the India Ink while it is wet.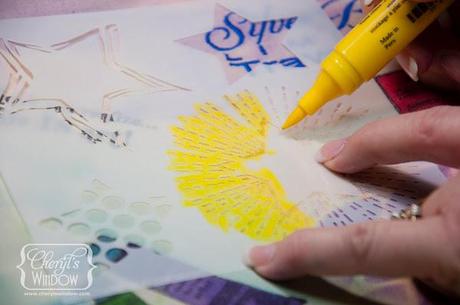 I layered various stencils and colored with Stamper's Big Brush Pens and some Gelatos™ Colors . I even added a little gesso in places for a bit of texture and contrast.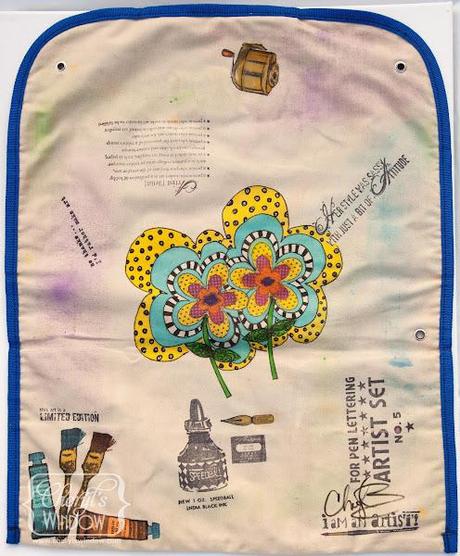 My signature is really on the tote – signed with a black Stamper's Big Brush Pens! I also used the same pen to add more doodles to the stamped flowers as well as coloring these doodles with cadmium yellow and light cobalt turquoise Stamper's Big Brush Pens. I finished with dry brushing using remisted leftover Gelatos™ Colors from nonstick craft mat.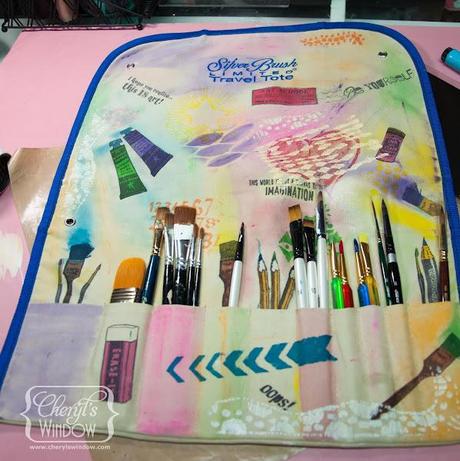 Now, add my well-used brushes and it all starts coming together. It looks used, dripped on, spilled on, smeared, and well-loved! It's not a framed masterpiece by any means, but it will help me carry my tools to make masterpieces. I don't think I'm finished with it either. I think I'm going to keep adding a little color and some more doodling and approach it much like I would an art journal. It was pure playtime and fun to color without worrying about coloring out of the lines or the gesso running under a stencil because of the layered fabric. I learned to embrace mistakes even when working on something that was supposed to look like mistakes.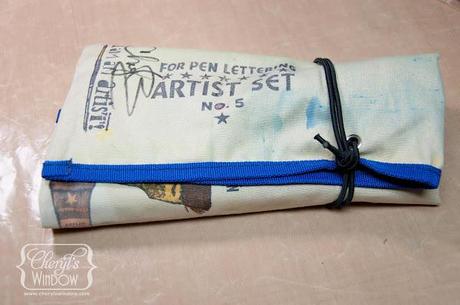 I will proudly take my travel tote with me (except I'm not sure I'll have room in my CHA suitcase this trip).
I think I was brave to try just playing around on my first Faber-Castell Design Memory Craft® Guest Design Team post, but I hope you are inspired by it and I hope you find time in your art journey just to play sometimes without worrying about the outcome. You never know what you might discover.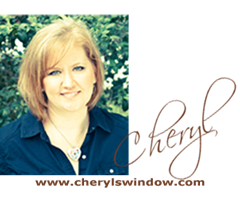 Supplies Used:
Stamper's Big Brush Pens
Gelatos™ Colors
Metallic PITT® Artist Pen(s)
PITT® Artist Pen(s)