I'm feeling frisky and playful like a kitten. The weather is so cold here in Seattle. Funny how the cold weather does that to a person. Must be the electricity in the air.
So I chose to create a

Playful, FUN, Style

today. Check out my creative little fashion collage below.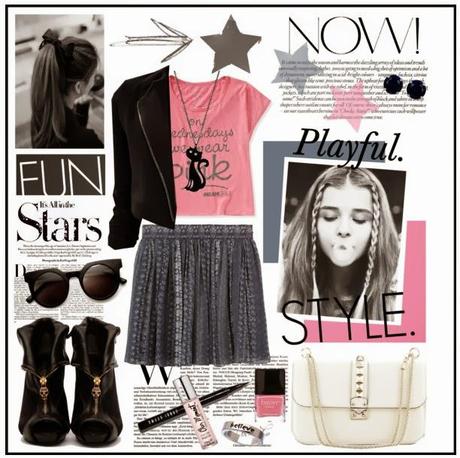 What is it about

pink

and

blue

color tones? They create a playful, fun atmosphere to play around with.
In the world of style; fashion designer

Vanessa Bruno

brings a

Playful

clothing piece to fashion in their "print silk mini skirt".
I wanted to maximize on the

FUN

aspect with a little "pink boxy graphic tee shirt" from Aeropostale and a

open crop blazer from Body Central.




Style

comes in the form of a perfect little piece such as this "

Valentino Rockstud-Trim Lock Flap Bag". Yeh. Baby!




I also thought that a pair of "zip up ankle booties" adds the final touch to this playful, fun style.




Lets go have some FUN in the frisky, crispy, cold weather. Happy Friday! Hope you have a awesome weekend my lovelies.