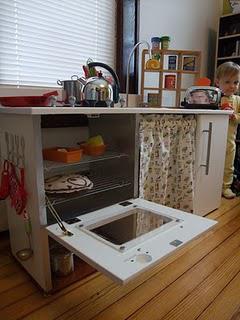 A couple of years ago we made a play kitchen. I drew a sketch of what I wanted in the car on the way to Ikea. Our plan was to hit AS-IS and gather as much as possible. Then we toured around the store picking up a few other things. As we constructed it, I bought stuff at Lowe's, Target, and several of our local dollar stores, of which we have many. The whole thing cost us $68. You can check out the flickr set here and the previous post here.
I could do a round-up of amazing DIY kitchens but why waste all that time with Ohdeedoh has already done it. Check their search here.
If you want some other inspiration, there is an amazing group on flickr called, surprisingly, Play Kitchens. Eye candy, people, eye candy. Some really great stuff.
And since we're on a flickr kick, find some great inspiration for play foods in the Play Food group organized by Robert Mahar of the awesome Junior Society blog.
And here's the deal: don't beat yourself up if you go to the store or Craigslist and buy a play kitchen. Most of next week will be dedicated to reviewing cool play food and play kitchen accessories that you can buy. Not everyone is crafty and not everyone has time. I'm just trying to keep this series organized.
Hey, thanks for all the emails and comments so far! I am so glad people are liking these posts.