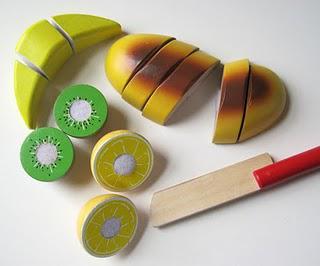 We have several sets of Melissa and Doug foods. We started with the Cutting Fruits box and then split the Cutting Foods box with my niece (I mentioned before the carrot that I thought was a hot dog creeping me out). While their products are now made in China (some people have a problem with that), I do trust that this company is safe. Everything in these two sets is wooden and I did expect some of the paint to wear off (although it's really not bad at all considering how much use these have gotten). The velcro that holds the sections together is strong and we haven't had any problems. I don't have any problems with either of these sets (or any other Melissa and Doug items we have). I do see different levels of quality with different items, however. The watermelon seems to be made of a much softer, lighter wood and some of the foods have much less detail than others. Overall, for the price, these sets can not be beat. Some craft stores even carry this brand. Top a 40% or 50% off coupon to that and you can really get a bargain. Also check stores like TJ Maxx.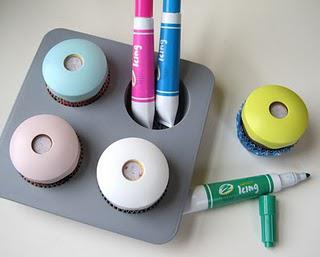 Our favorite set, by far, is these Bake and Decorate cupcakes. I got these from Amazon this Christmas during one of their daily deals for $10. They are awesome. The little icing tops are made of plastic and the tubes of icing are actually dry erase markers. These have kept the toddler busy for hours. As long as you erase with a paper towel shortly after decorating, these clean very easily. The first time we used them we left the marker on overnight and we had to really rub to get it off. The velcro patches hold wooden candles but we never use them. I had thought I might sew some felt berries to use instead but, well, that hasn't happened yet.
The Verdict: Melissa and Doug foods are good quality toys at an excellent price point. If you can catch these on sale, even better. They hold up well to heavy play and are good for a variety of ages. Most of the food sets come in a little crate which is excellent for storing other stuff.
For the rest of Play Eats, click here.