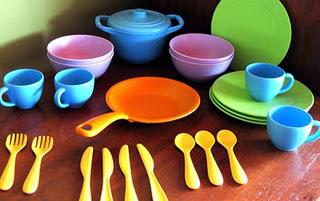 Green Toys is a newer company whose products are totally eco-friendly, made from recycled plastic. They're known for being kid-safe and durable.
Play Eats correspondent Carolyn (of almost half of Play Eats) has one of these sets and gives us a full report:
"This past Christmas yet another family friend sent Eloise even more play kitchen gear. Even though we already had more than enough play kitchen gear, I was thrilled with this gift -- the Green Toys Cookware and Dining Set. All Green Toys are made from recycled plastic, this particular product is made from high-density polyethylene or HDPE sourced from recycled milk jugs. Some of their other toys are made from recycled plastic bags. Their products are BPA, phthalate and PVC free and made in California. This set is safe for food contact and dishwasher safe. If Eloise wants to actually eat or drink from this set I am OK with that. I love that these dishes are dishwasher safe, especially during cold and flu season! They get lots of use.
In terms of construction, the Green Toys set has a cleaner, more simple design and feels heftier than the other plastic sets, the plastic is a little thicker and less likely to snap or break. Overall, the Green Toys set feels higher quality and is better finished, the molded seams are not as pronounced and all of the pieces are one solid piece of plastic -- compared to other sets, which are each made from 2 pieces of plastic that have been fused together and as a result seem like they may eventually break apart. The surface of this set has a slight texture, it's not completely smooth, which makes the pieces a little easier to grip, and makes it easier to wash crayon and marker off of them. It goes without saying that the Green Toys set is more gender neutral.
All the Green Toys Cookware and Dining set lacks is a teapot. If the set had a teapot it would be a complete play kitchen set. Green Toys also makes a tea set and there is a separate chef set that has 2 cooking utensils with the skillet and lidded pot. Green Toys should consider selling a total kitchen set with all of their various kitchen pieces packaged together in one box (made out of recycled cardboard naturally!)."
The verdict: Although the Green Toys play cookware sets are at a slightly higher pricepoint than others, the quality and safety of the products outweighs all of that. I love that they are toys you can actually use. How fun to take them outside in the Summer and have a real tea party!
Special thanks again to Carolyn for her thorough reviews and the photo!