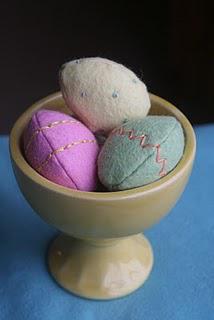 Katie of Hippos and Dinosaurs brings Play Eats to the next level today with a Felt Egg tutorial. You can "decorate" them for Easter or just make them white for your kitchen. She has even uploaded a pattern that you can print out. Katie is super talented and her blog is full of great projects that you can make for your kids.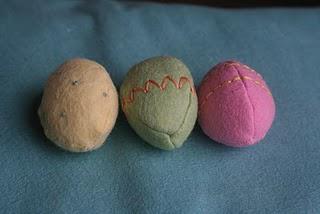 I know that a lot of readers don't have sewing machines (or don't want to lug them out of the closet) and this is a project that can all be done by hand. In our kitchen we just have a couple of plastic eggs from last Easter and although they are cheap and easy (I even included them in the repurposing post), they are really hard for Z to open and close. I'm thinking when I make these, I might leave a seam open but finished so that we can hide things inside. What do you think?
Click over to Hippos and Dinosaurs for the full tutorial and pattern. Don't miss this play loaf of bread or the rest of her felt food tutorials.
Thanks so much to Katie for stitching up this awesome post. Of course, all photos are courtesy of Hippos and Dinosaurs.