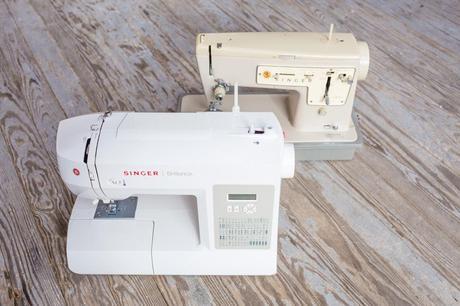 McDonald's or Burger King? Natural or man-made? Rear Window or High Society? In the sewing world, the two teams when it comes to sewing machines are all metal or plastic. In my apartment, both sides get fair amount of playtime; it just depends on the project. Currently, I have a Juki DDL 5500, a Singer 6180 Brilliance, a Singer 237, and a 1956 Singer Featherweight. All are all metal except the Singer Brilliance. I feel the same embarrassment using it as I do when I buy poly over silk, but I have to admit, it does a pretty decent job. The only hair pulling moments I have is when it skips zigzag stiches on my bras and undies.
Over the past year, I've become increasingly interested in the mechanics of a sewing machine. My reasoning is simple – if I'm using it over and over, I want to know how it works. How does the motor rotate the belt, which moves the upper and lower drive shafts, and eventually, the needle bar? Also, Natasha and Sally's own adventures in restoring vintage machines inspires me to get down and dirty with the nitty gritty details of how one works.
So what is the difference between all metal and plastic sewing machines, and is so bad to buy/use a newer, computerized one? Here's what I've found.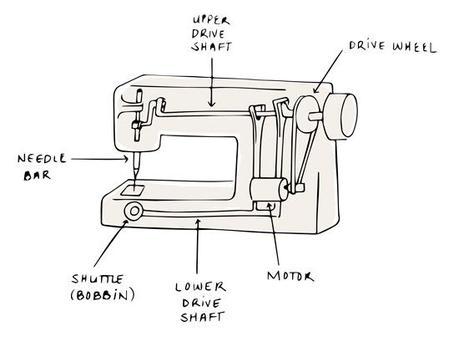 Before making a decision, let's take a look inside at the technology. Even though there are thousands of makes, models, and prices, the core of a sewing machine is all the same. There is a motor, which is connected to a drive wheel via a belt. When you press down on the presser foot (sorry for the redundancy), the belt rotates, which causes the upper drive shaft to rotate as well. At the end of the upper drive shaft is a crank, and when the upper drift shaft rotates, so does the crank, causing the needle bar to move up and down. At the other end of the upper drive shaft (closer to the drive wheel), there is a belt that connects the upper and lower drive shafts. At the end of the lower drive shaft is the shuttle (where the bobbin is). Because the upper and lower drive shafts are connected, the needle bar and bobbin move in sync. 

Note: sketch above is a very simplified rendering of a sewing machine that is only meant to show how the parts work in unison. Click here for a more detailed diagram and description. 
Knowing this, let's look at a write up Eleanor wrote on PatternReview.com (I love this site!). In the review, she takes apart a Brother CS-6000i and investigates the insides. Just like older machines, newer/computerized machines have metal parts, but instead of being bolted to a metal frame, they are secured a plastic casing. This plastic frame flexes slightly, but when the front and back pieces are screwed together, there is very little give. One common conception is that as the needle bar and bobbin move in a plastic machine, their fast motion causes the frame to flex slightly, which messes up the timing. Eleanor examines this – when force is applied by hand up and down and front and back, the needle bar moves 1mm. But if the needle can complete a zigzag stitch, in which the needle moves as much as 3.5mm, then why couldn't it complete a stitch in which the needle moves 1mm?
Another major difference between older and newer machines are the cams. In all metal machines, the cams are metal, while in plastic machines, the cams are plastic (seems obvious, right?). Custom stitch patterns were achieved by cams, but today, a computer controls the needle position in a customized stitch. When the cams malfunction and need to be replaced, plastic ones sometimes cost more than the price of the machine.
In some cases, buying polyester is a better choice than buying silk. Depending on the amount of money you can spend and the end use of the garment, sometimes it's best to choose man-made. I think the same thing can be applied to all metal or plastic sewing machines. Depending the type of project, the kind of sewer you are, and your skill level, choosing a plastic machine might be a better choice for you. Or it might not. While newer machines will go around 2-5 thousand hours of usage  (10-20 years), older machines will last a lifetime. But older machines are heavier though, and if you're a mobile sewer (because you take classes), then newer, lightweight machines appeal to you. Newer machines also have a ton of specialized stitches, while older machines have less. See how many factors come into play? Don't be fooled though – both plastic and metal machines benefit from routine oiling. Even if it has a plastic frame doesn't mean there aren't high-friction, metal points on the inside.
So, I don't feel as bad anymore using my $150 dollar Singer because I know it has a purpose (decorative stitches) and that right next to it are 3 workhorses.
What are your thoughts on plastic and all-metal machines? Do you have a bias towards one? If so, why?
Also, if you're looking to restore a vintage machine, Julia of House of Marmalade has a great tutorial. Can you believe Coca Cola is one of the supplies needed to clean up an old machine? Also, this is an awesome blog all about vintage Singer sewing machines.