In retrospect, I think I sowed my Runner and Borlotto beans a week too early. They were ready for planting-out just as we went into the spell of very cold weather that has just ended. Beans like this are not frost-hardy, so I had to keep them under cover in a coldframe each night. They grow very rapidly and now they are bigger than I would normally let them get before planting; however they look strong and healthy, so delaying a week doesn't seem to have done them any harm.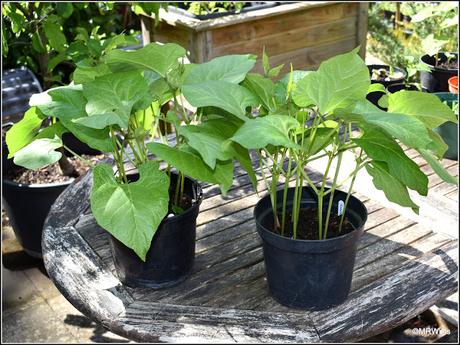 Here's a better view of the Runners. They are "Scarlet Emperors".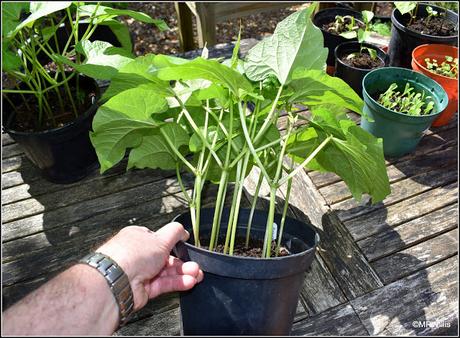 And these are Borlotti - "Lingua di Fuoco".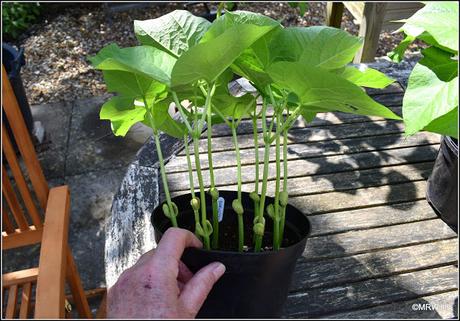 The Runners are going to be grown in one of my raised beds, supported by 9-foot Hazel poles, and the Borlotti will live in a large (60-litre) container, with 6-foot-six poles.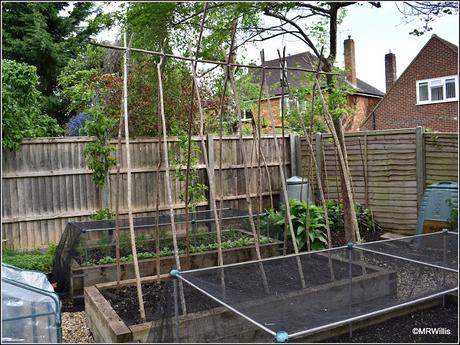 I have planted 10 Runner beans, each with its own pole to climb. I've also put in four "Cobra" climbing French beans, one at the base of each end pole. The "Cobras" are very poor by my normal standards, but luckily I sowed another batch, which will go in when they are big enough. I very seldom rely on one sowing of anything (especially beans), and I like to have some reserves waiting in the wings for occasions like this.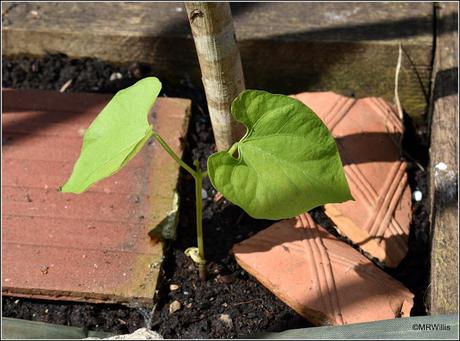 Climbing French bean "Cobra"
Just recently I have been having terrible problems with Blackbirds. They dig up
everything
in their search for food (currently more urgent than usual, because a pair of them is nesting in my hedge and probably have babies to feed). Little plant seedlings are shown no mercy, and anything unprotected is in grave danger of destruction. Accordingly, I have protected my newly-planted Runner beans with this array of obstacles:-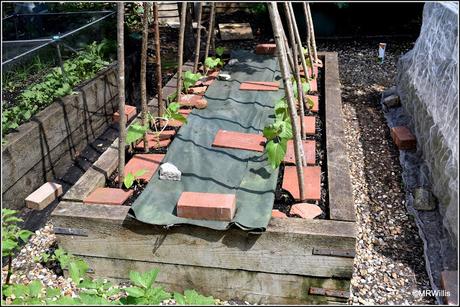 Down the middle of the bed is an old Army groundsheet, and between the poles I have placed some terracotta tiles.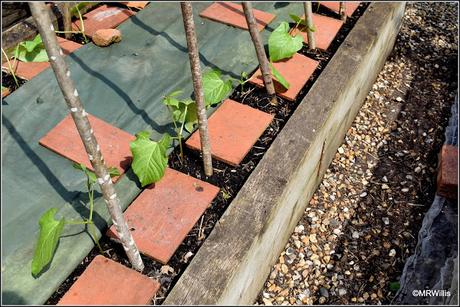 I'm not expecting this arrangement to provide complete protection, but I hope that it will at least minimise the damage. I've already seen some Blackbirds inspecting it and looking very puzzled (and no doubt indignant!). One additional benefit of the covering with the groundsheet is that it will act as a sort of mulch, reducing water loss from the soil. I must remember to look underneath it frequently though, and dispose of any slugs that decide to hide there.
Here are the Borlotti I planted. They are big healthy plants, so I only put in one per pole. I'll keep the others as spares.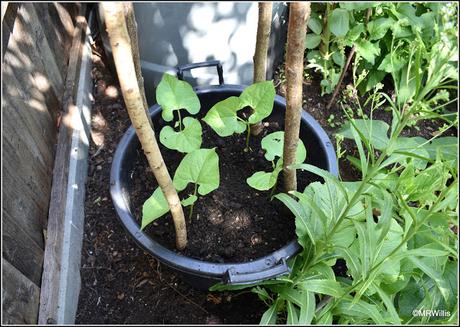 This is a view of where the tub for the Borlotti is sited - in the corner of the garden where the Comfrey and Horseradish are.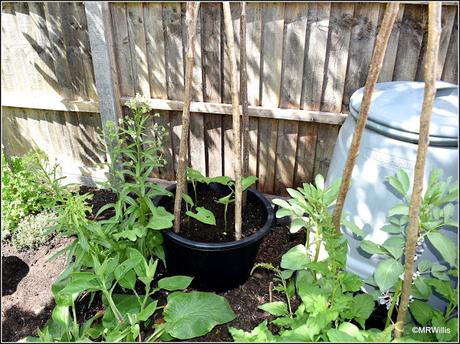 Right, so the beans are in! Let's hope we don't get any more frost now until the Autumn.