Kale is not the OH's favorite vegetable when cooked conventionally as "greens", but when made into Kale Chips it meets with approval, and I like it in most forms (kale smoothies somehow don't appeal though), so this year I'm giving it a go.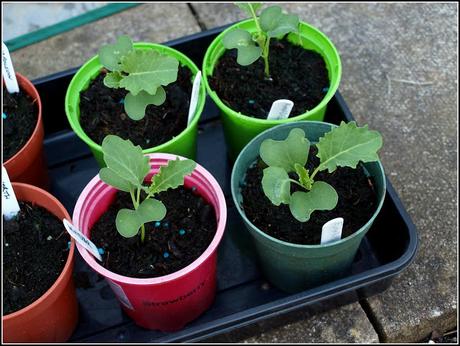 I have grown four plants of the variety "Winterbor". It is a curly-leaved variety, growing to about two feet tall. Since it is very hardy, it is normally sown in early Summer, for cropping in late Autumn through to early Spring, but I decided to grow it earlier, because I couldn't fit it into my Winter veg plans. With a bit of luck I'll have leaves available for use by about the end of June.
This week I judged my Kale plants to be the right size for planting out, which was convenient because some space had just been freed-up by the end of harvesting of my first sowing of Radishes. I have put the four plants at the corners of the bed which holds the Broad Beans. In due course, when the beans have finished, this bed will play host to my PSB - but that's a long way off yet!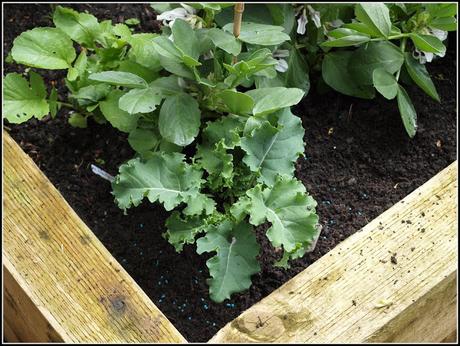 I could show you all four corners of this bed, each with its new Kale plant, but I won't - they all look exactly the same!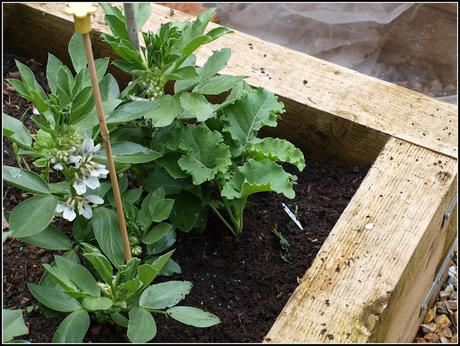 As you can see, the Kale plants are currently about the size of the diminutive "Robin Hood" Broad Beans. If the beans were really big ones I might have hesitated about planting the Kale here, but as it is I think they will be all right and get enough light.
I am amazed how clean and unblemished my brassicas (including the Kale) are this year. They are all just about perfect: no slug damage; no caterpillar damage; no Cabbage Root Fly damage. It's scary. I've never had this happen before. I can't think what I have done that might have made the difference. Normally I lose a few seedlings before they reach "adulthood", but this year none of my spares have been deployed. I wish it was always like this! Just a couple of days ago I dutifully applied the usual dose of nematodes, but half of me thinks it wasn't necessary...
This year I'm not growing any Cavolo Nero, which I do usually grow. We have "gone off it" at least temporarily. And in any case, since I have started taking more of an interest in Leeks, I probably won't have the space available. Growing over the Winter this time I aim to have Cabbage, Leeks, Brussels Sprouts and PSB - and of course Parsnips if they last that long.
Changing the subject slightly, my Peas are now growing rapidly. They love the damp, mild conditions.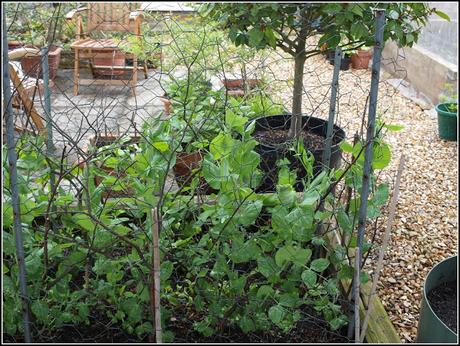 The first few flowers are visible now: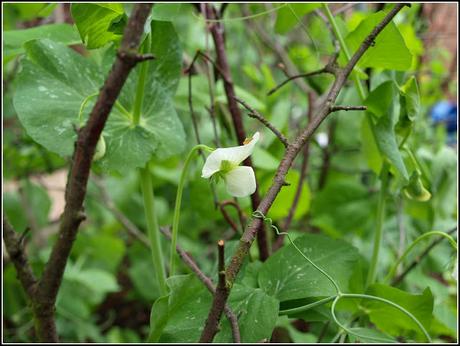 Along each side of the raised bed I currently have a piece of chicken wire, which is there to deter the badgers from digging up the Beetroot plants alongside the rows of Peas. I think I will have to remove the wire soon, because the peas are beginning to reach out for it, and I don't want to leave it there permanently, otherwise harvesting the peas will be very tricky. Hopefully the Beetroot is now big enough to survive despite the nocturnal furtling-around.