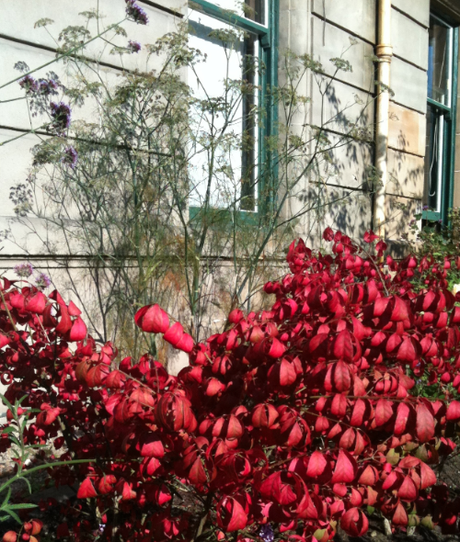 Euonymus alatus 'Compactus', with fennel in the background and Verbena bonariensis just peeping in on the left. Photograph: David Wong
In the good old days when men were men and women were still playing along and letting them think that, and everybody wore bell bottoms and platform shoes, gardeners would plant things in autumn.
Oh yes, it's true. Gather round the fire and let me tell you about how t'was done in the times of gardening past. [Disclosure: by the time I was born, people had moved on to shoulder pads and flammable tracksuits, so I don't speak from experience.]
The tradition was to plant in autumn because there's still some warmth in the soil then and there's moisture, so trees and shrubs and herbaceous perennials can get on with putting down their roots without stressing themselves out by trying to flower or produce new leaves as well. It's easy to forget that now that so much is grown for sale in pots, and plants are available all year round.
Be careful with evergreens though if your garden is exposed to the winter winds because it can dry them out. If you aren't going to be out there in the winter watering your newly-planted evergreen then spring may be a better bet for them.
Plants that go into the ground in autumn have a head start. They have their roots in position ready to sprint into action when the furious growth starts in spring.
Get your plants now and get them in and get a better show in spring and summer.
And get them on Plantedd!
Permalink | Leave a comment  »