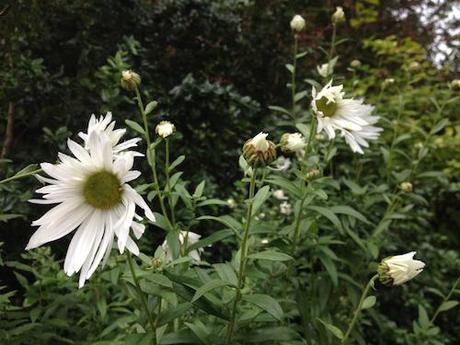 It was only yesterday that I heard about Leucanthemella serotina for the first time. There are some plants that we all know, like roses and lilies and daffodils and tulips. Others for some reason don't get their time in the limelight.
The name probably doesn't help. 'Leucanthemella' isn't particularly romantic, but then we manage fine with names like 'chrysanthemum' and 'pelargonium'. Whatever the reason for it being elusive, it deserves to be more widely known and widely grown. Or perhaps it's just my own ignorance and everybody has been growing this fine plant all along?
I've got it mentally filed away for when I need a tall daisy for a partially shaded position. The leucanthemella that I met yesterday was just under 6ft tall and it had an upright habit. Importantly, and unexpectedly for a taller perennial, it didn't need staking. There's a relaxed informality to it that I think best suits a naturalistic scheme like a prairie style border – I can imagine it looking very effective planted in a drift with a grass like Molinia caerulea subsp. arundinacea 'Transparent'.
They like soils that don't dry out (as do molinias). Other than that, Leucanthemella appear to be easy-going plants. The RHS have deemed it worthy of an Award of Garden Merit (AGM) and it's rated as H7 for hardiness, which is the coldest category. It probably hangs out with penguins and polar bears.