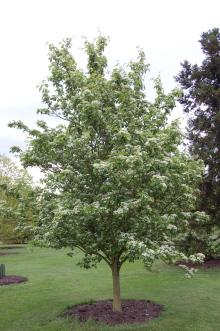 Sorbus alnifolia (18/05/2013, Kew Gardens, London)
Position: Full sun to light shade
Flowering period: Late spring
Soil: Moist, well drained
Eventual Height: 15m
Eventual Spread: 8m
Hardiness: 4a, 4b, 5a, 5b, 6a, 6b, 7a, 7b, 8a, 8b
Family: Rosaceae
Sorbus alnifolia is a deciduous tree with a conic to rounded habit. Its mid green leaves are finely hairy on the underside, ovate to elliptic with serrate margins, up to 10cm long and 6cm broad. It leaves turn orange/ red in autumn before they fall. Its branches are ascending. Its trunk may achieve a diameter of 30cm. Its bark is gray and shallowly fissured to smooth. Its white flowers are up to 18mm across, appear in corymbs which are up to 8cm across. Its red fruit is a pome, up to 15mm across and mature by mid autumn.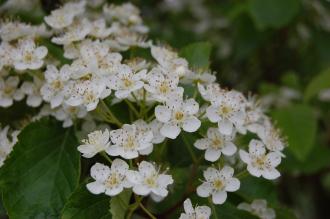 Sorbus alnifolia Flower (18/05/2013, Kew Gardens, London)
Sorbus alnifolia, commonly known as the Alder Leafed Whitebeam or Korean Mountain Ash, is native to east and north China, Taiwan, Korea and Japan. In its native habitat it grows in mixed forests and shrubby thickets.
The etymological root of the binomial name Sorbus is derived from the old Latin name for Sorbus domestica (the Service Tree). Alnifolia is derived from the Latin meaning 'Alnus leaved'
The landscape architect may find Sorbus alnifolia useful as an attractive smallish tree with attractive spring flowers, autumn leaves and winter fruit. This ree is not self fertile, therefore if fruit are desired more than one tree should be planted.
Ecologically, Sorbus alnifolia flowers are attractive to pollinating insects. Its fruit are attractive to birds and some mammals.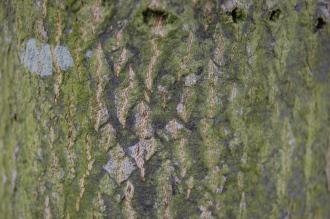 Sorbus alnifolia Bark (18/05/2013, Kew Gardens, London)
Sorbus alnifolia prefers moist, humus rich, well-drained soils. It tolerates most pH of soil.
Sorbus alnifolia requires little maintenance.