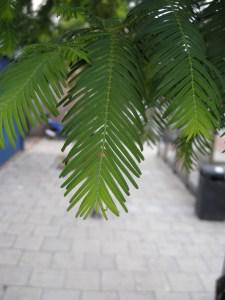 Metasequoia glyptostroboides leaf (13/08/2011,London)
Position: Full sun
Soil: Moist, poorly drained soil
Flowering period: Spring
Eventual Height: 40m
Eventual Spread: 8m
Hardiness: USDA Zone 5a-8b
Family: Cupressaceae
Metasequoia glyptostroboides is a fast growing deciduous, coniferous tree with an uptight, cone shaped habit. Its foliage is composed of flat compound leaves with narrow, pale green leaflets which will become brownish-pink and yellow in the autumn. Its monoecious flowers are wind pollinated, taking the form of cones.
M. glyptostroboides, commonly known as the Dawn Redwood, is native to eastern Asia, including China. It was thought to be extinct until a small stand was discovered by Zhan Wang near the Yangtze River in 1944. This tree is the only living tree in its genus and is known as a fossil species; as it was first described as a fossil before being discovered as a living specimen.
Metasequoia is derived from the Greek meta meaning 'similar to' and Sequoia is the name given to Coast Redwood (Sequoia sempirvirens (its name being derived from a famous Native American of the Cherokee tribe)).  Glyptostroboides is a Latinised word alluding to its similarities to members of the Glyptostrobus genus.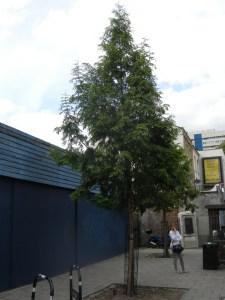 Metasequoia glyptostroboides (13/08/2011, London)
This plant may be useful to the landscape architect as a large, maintenance free deciduous conifer specimen tree. It is suitable for planting in moist to waterlogged soils.
The Royal Horticultural Society gave this plant their prestigious Award of Garden Merit in 1993.
This plant will tolerate almost any soil conditions; it will be happy at neutral, acid or alkaline pH levels, in loam, chalk, clay or sand based soils, facing any sheltered or exposed aspect.
Ecologically this plant will attract various species of birds which will shelter from predators in its foliage.
Maintenance: This plant requires no maintenance. Dead or damaged material may be removed in winter.