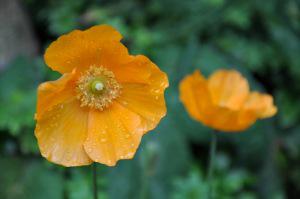 Mecanopsis cambrica var. aurantiaca flower (16/07/2011, London)
Position: Partial shade
Soil: Moist, well drained soil
Flowering period: Summer
Eventual Height: 45cm
Eventual Spread: 30cm
Hardiness: USDA Zone 3a-11a
Family: Papaveraceae
Meconopsis cambrica var. aurantiaca is a deciduous perennial with a clump forming habit. Its fern like foliage is light green and pinnately lobed. In late spring it will bear deep orange or lemon yellow, bowl shaped, terminal, monoecious flowers on tall leafless stems.
M. cambrica, commonly known as the Welsh Poppy, is native to western Europe, including the UK. In 2006 the Welsh party Plaid Cymru began using a stylised version of it as their logo.
Meconopsis is derived from the Greek, mekon meaning 'poppy' and opsis meaning 'looks like'. Cambrica being a Latinised word derived from the classical name of Wales, Cambria, meaning 'of or from Wales'.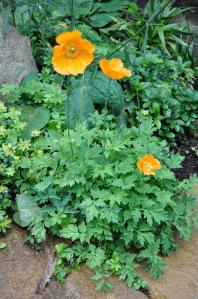 Mecanopsis cambrica var. aurantiaca (16/07/2011, London)
This plant may be useful to the landscape architect as part of a low maintenance native wildflower. Care should be taken in locating this plant as it can naturalise in cracks in pavement and is particularly suited to spread in an urban environment.
This plant will tolerate many soil conditions; it will be happy at neutral or acid pH levels, in loam, sand or clay based soils facing any sheltered aspect.
As a native flowering plant it will have a large and positive ecological impact, attracting native fauna such as honey bees and butterflies, beetles feed on the seed capsules and this plant is exceptionally attractive as food for terrestrial gastropods.
Maintenance: This plant requires no maintenance.