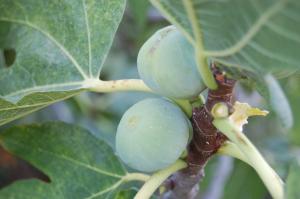 Ficus carica fruit (22/08/2011, Athens, Greece)
Position: Full sun       
Soil: Average, Dry
Flowering period: NA
Eventual Height: 8m
Eventual Spread:  7m
Hardiness: USDA Zones 7a-10b
Family: Moraceae
F.carica  is a large deciduous shrub or small tree native to southwest Asia and the Mediterranean region. The foliage is single, alternate and large. It is deeply lobed with 3 or 7 lobes, rough and hairy on the upper surface and soft, hairy on the underside. The bark is smooth and grey. They often grow as a multiple branched shrub especially when subjected to frost damage. The flowers are not visable as they bloom inside thee fruit. The fruit is 3cm to 5cm with a green skin which ripens to purple or brown.
F.carica,  commonly known as the Common Fig, is believed to have been native to Western Asia eventually being distributed by man throughout the Mediterranean  region. It is a plant that has been cultivated for thousands of years and is believed to be the first plant to be cultivated by humans. Figs were introduced to England between 1525 and 1548.
Ficus is the latin name for the edible fig. The name carica is derived from the Greek term belonging to or growing amongst Carex.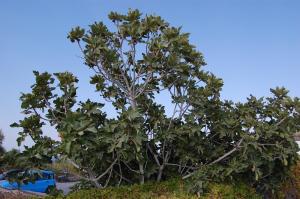 Ficus carica (28/08/2011, Thira, Greece)
This shrub may be useful to the landscape architect in community based and wildlife projects as its fruit are edible. These trees also provide good shade in areas where seating is located. Care should be taken when locating this plant as the sap of the green parts of this plant may act as an irritant to the skin. Once established F.carica is drought tolerant.
F.carica can be grown on a wide range of soils such as light sand, rich loamy and heavy clay/limestone soils provided that there is decent food drainage and depth. Its preferred PH is between 6.0 and 6.5. It does not tolerate highly acidic soils. Figs can also tolerate moderate salinity.
Ecologically the Fig is a valuable source of food for birds which will feed readily on the fruit. The roots of this plant are a favorite source of food for gophers.
Maintenance: Requires a lot of regular watering until fully established. Once established watering will not be required.