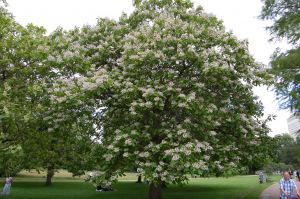 Catalpa bignonioides (10/07/2011, London)
Position: Full sun
Soil: Moist, well drained soil
Flowering period: Summer
Eventual Height: 10m
Eventual Spread: 10m
Hardiness: USDA Zone 5a-9b
Family: Bignoniaceae
Catalpa bignonioides is a deciduous tree with a spreading habit. Its foliage is extremely large, chordate, light green and purplish when young. Its monoecious, 3cm across white flowers are marked with yellow and purple, appear in panicles of 20-40 and appear prolifically in summer, followed by long, cylindrical, pendant pods.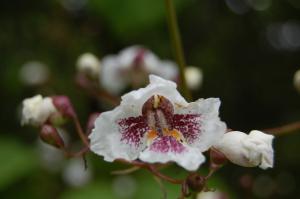 Catalpa bignonioides flower (10/07/2011, London)
C. bignonioides, commonly known as the Indian Bean Tree, is native to south-eastern United States. The roots of the tree are known to be highly poisonous. There are also references to the plant being used in traditional medicine and although many uses have been tried for the plant (its bark has been used as a substitute for quinine in treating malaria, as an antidote to snake bites, laxative, sedative and vermifuge), its actual traditional uses are not explicitly known. C. bignonioides was introduced into Britain in 1726, with the oldest living specimen, at 150 years old, being found in a church graveyard in Reading.
The origin of the name Catalpa is believed to be a mispronunciation of the name of the Catawba Native Americans, with bignonioides being a Latinised word meaning 'like members of the Bignonia genus'.
The landscape architect may find this plant useful as a striking, small to medium sized parkland tree with interesting leaves and a mass of flowers during the summer months.
The Royal Horticultural Society have given the cultivars it their prestigious Award of Garden Merit.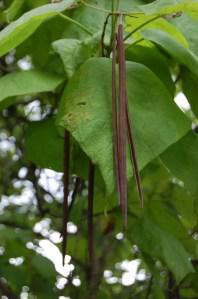 Catalpa bignonioides seed pod (10/07/2011, London)
This plant will tolerate almost any soil conditions; it will be happy in neutral, alkaline or acid pH levels, in loam, chalk, clay or sand based soils facing a sheltered, southern, eastern or western facing aspect.
Ecologically this will attract pollinating insects such as butterflies and honey bees and some species of lepidoptera will prefer its foliage as a food source, e.g. the Catalpa Sphinx, although this species of moth is native to North America.
Maintenance: Requires little to no maintenance. Dead or damaged material may be removed in late winter to early spring.