I grew up down the road from a plant nursery - if not a literal stone's throw away, then it was certainly within the throw of a particularly aerodynamic paper aeroplane. I passed the place most days and from the pavement outside there was nothing to suggest that it held anything of interest within the white pebble-dashed walls and peeling green corrugated iron fence.
I can't remember the first time that I went in, but at some point during the many visits and the many plants that I bought on a whim, something clicked. The things that I brought home were growing and flowering. I was starting to pick up the names of the plants. Most significantly perhaps, I had even earned the acceptance of the formidable Eleanor who presided over the nursery. At the beginning I would feel her eyes following me around, making sure that I wasn't causing mischief. After a while though she relaxed and perhaps conceded in her own mind that I really was just there to give her my pocket money for another bag of daffodil bulbs. She started to pick up on what I liked and she would steer me towards the 'good do-ers'. I admit that my tastes were not refined and I went for the bright and blowsy, and the culmination of that was probably a standard Fuchsia that had fat, double flowers in a searing cerise color.  (We all have our gardening skeletons.)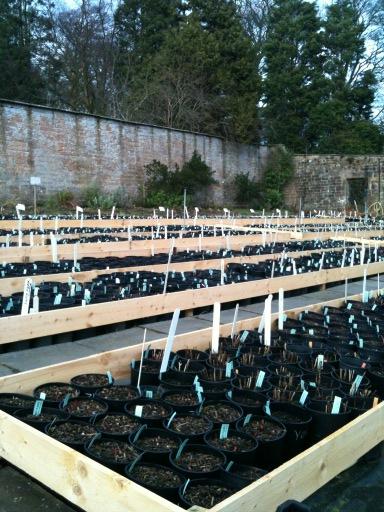 Not the nursery of my youth, but the rather brilliant Binny Plants - just outside Edinburgh. Photograph: David Wong
Looking back through the last two paragraphs, I find it hard to imagine that my interest in plants would have developed if I had grown up down the road from a Homebase or Dobbies. 
I suspect that the selection of plants in the large chain garden centres is, at least partly, constrained by the logistics of transporting them in metal, shelved trollies. I have an immediate distrust of any plant that is described as 'compact'. I want plants that look in proportion, not a spread of short, stumpy, stunted specimens.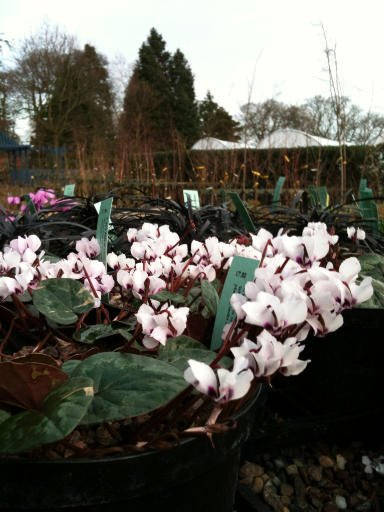 Pots of Cyclamen coum that are short but perfectly formed. Definitely not stumpy or stunted. Photograph: David Wong
Far better to go to a nursery or garden center who really know their stuff, run by people who have the muddy, hands-on experience of growing the plants that they sell. That's the only way to foster a love of plants.
Permalink | Leave a comment  »