For those of you in Scotland, the school summer holidays are now upon us!
As a single parent, and a business owner, getting organised for the summer holidays is no mean feat.
I put a poll up on my Instagram, and there were a lot of parents in my audience who are yet to get their holiday plans sorted, and were keen to understand how I do my planning.
So here goes…
As a single parent, in the first instance I need to understand what my childcare rota is for the holidays. I had put forward a proposal to my ex a while ago, but it was only agreed now… so it's delayed my planning somewhat. It's also meant that some of the clubs locally for over the holiday are already fully booked out, and we also have the added difficulty that the summer club we have previously used isn't running this year. Out of my control unfortunately, and so I just have to manage around these things.
I'm a really visual person, and I like to 'see' the time that we're playing with. Have you come across the visuals for a human life in months, or even weeks before? I've included a monthly version below for a 90 year old. It's powerful being able to consider time in this way. Full blog post from Wait But Why

here

. Anyway, what I've done is I've created a planner for the summer holidays that breaks the weeks down into days, so that I can have a 1-page snapshot of what we're doing each day.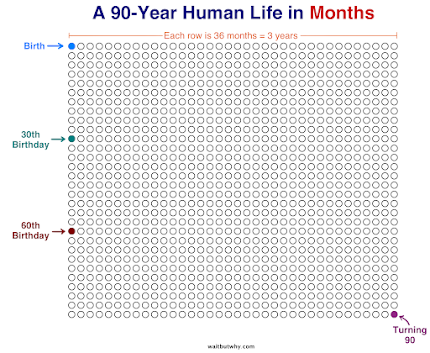 If you want to get your hands on my summer holiday planner, as well as my other planning templates such as meal planner, daily habit tracker and my to-do list then you can head to

this page on my website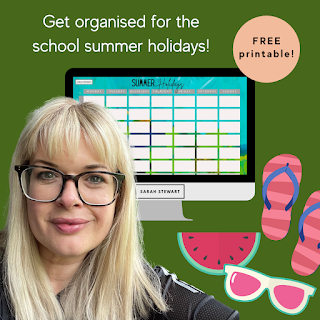 My kids are older now, 11 and nearly 13 - so we had a family meeting to chat about what we'd like to do over the summer. Gone are the days when I could pick & choose by myself!
I'm going to be taking the kids away on a few trips this summer, and so this is one of the first things that I blocked out in my planner. (I've got some campsites booked up now, and the arrangements are in place - can't wait!).
I am also going to have to do some work over the summer - I'm not yet in a place with my business where I can step away altogether for the full 7 weeks. So using my planner I'll determine which of the days, or parts of the days, I'm going to work, and figure out what the plans are going to be for childcare on those dates… this might be summer clubs/activities, or play dates with friends etc. 
Get creative! Can you offer to take a friend or neighbours kid for a half-day whilst they work, and then see if they'll offer the same in return?
Have a think about what activities you can plan and schedule in advance for your business that will take the pressure off over the summer months…. perhaps you can schedule your email marketing and social media now? Have a look at

this blog post

on being more efficient with your social media.
Are there tasks that you can blast out in the mornings during the summer holidays before the kids get up, or once they are in bed - maybe get yourself an accountability buddy and get a few Zoom power hours scheduled each week?
It's also a great time to mull over what tasks you can delegate to free up your time. I've a blog post

here on prioritisation

that should be helpful.
Lastly - have a think about how you want to feel over the school summer holidays, and make sure that the activities you've got scheduled will help you feel that way. I'm craving adventure, and so I'm excited to get away in our campervan, Verity, as much as possible.
Would love to hear your thoughts - how do you plan for the school summer holidays, and what exciting things will you be doing over the summer months?