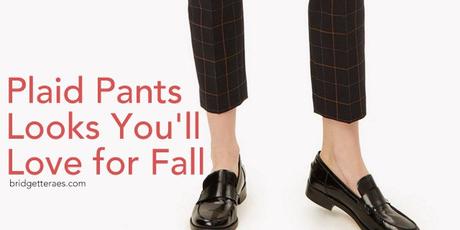 Last fall, much to my surprise, quite a few clients purchased plaid pants.  There was one popular pair from Theory that were in gray flannel with a navy windowpane.  The other pair were more lightweight in black with with white windowpane from Lord & Taylor.  They are both long sold out, but still seeing plaid pants in the stores this fall, I decided to post on the topic.
I feel like, at first glance, most women wouldn't gravitate towards plaid pants.  For one, nobody relishes the idea of a grid pattern across their thighs.  Understandable.  Second, they can look a little a little traditional if not styled properly or are in a silhouette that is too classic.  But it doesn't have to be this way.  After all, if several of my clients partook in even considering plaid pants, and then purchased them while under my supervision, then they can't be all that bad, right?
Let's take a look.
Below you will find three plaid pants styled three different ways to prove that they can be worthy contenders.
Plaid Pants Looks You'll Love for Fall
Outfit #1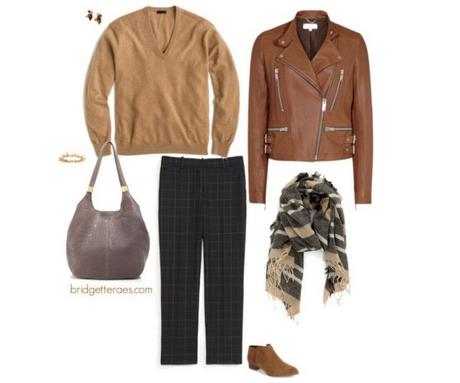 This first pair is from Theory and I have already seen them on a few clients.  The fit is fantastic, modern and the plaid is totally understated.  Plus, being in a neutral shade, they're easy to work with.  In the outfit above I brought out the camel in the windowpane and styled the pants with a classic v-neck sweater from J. Crew and a leather bomber from Reiss, and accessorized with booties from Vince Camuto, a scarf from Madewell, bag from Elizabeth and James, a bangle from Stella & Dot and tortoise earrings from LOFT.
Outfit #2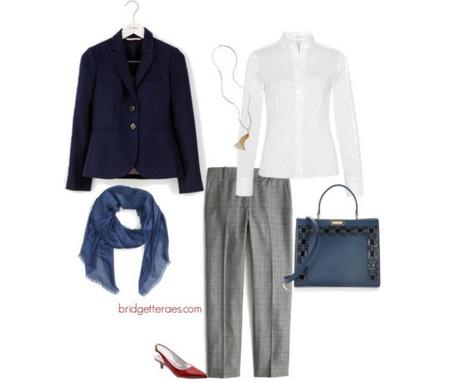 This next style is from J. Crew has a red and navy deco pattern.  When choosing plaids that have multiple colors it is important to select patterns that include colors that you either own or like to wear.  Often these more colorful plaids can be limiting if you don't have enough in your wardrobe to work with them.  In the outfit above, I worked with the versatile navy in the plaid using this blazer from Boden over a Hugo Boss shirt, scarf from Echo, and bag from Kate Spade and then popped the red using these kitten heeled pumps from Trotters.  Lastly, I added this pendant from LOFT to finish off the look.
Outfit #3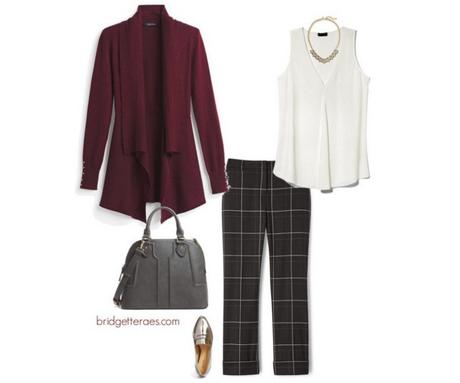 I featured these pants from Elie Tahari a few weeks ago in a post about early fall work looks.  You can check out the post here to see how  these plaid pants can be surprisingly versatile.   In the outfit above, I styled these pants with an ivory top from Vince Camuto and burgundy cardigan from White House|Black Market.  I finished the outfit with a pair of silver metallic loafers from Michael Kors, a grey dome satchel from Sole Society, and necklace from Banana Republic.
Shop for plaid pants
If you are looking to add some variety to your wardrobe and have all the basics covered, why not check out plaid pants?  Here are some additional styles to check out.

Turn on your JavaScript to view content