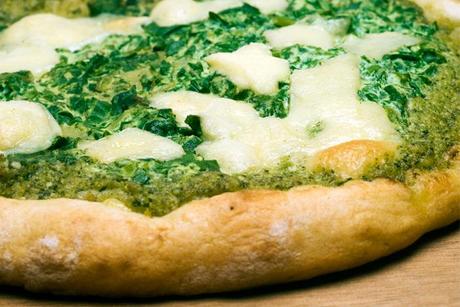 Ingredients:
For the pizza dough:
1 kg white flour and extra for dusting,
1 level tablespoon fine sea salt,
2 x 7 gr sachets of dried yeast,
1 tablespoon golden caster sugar,
4 tablespoons extra virgin olive oil,
650 ml lukewarm water.
For the spinach pesto:
4 cloves of garlic,
80 gr of grated Parmesan,
A good bunch of basil leaves,
200 gr fresh or frozen spinach leaves,
Salt,
Pepper,
Olive oil,
Mozzarella.


Preparation:

Start by making the pizza dough, sieve the flour together with the salt onto a clean work surface and make a well in the middle. In a jug, mix the yeast, sugar and olive oil into 500ml of water and leave for a few minutes. Pour the liquid mixture into the well and using a fork bring the flour in gradually from the sides and swirl it into the liquid. When it all starts to come together, work the rest of the flour in with your clean, flour-dusted hands. Add more water if needed and knead until you have a smooth springy dough. Place the ball of dough in a large flour-dusted bowl and flour the top of it. Cover the bowl with a damp cloth and place in a warm place for about an hour until the dough has doubled in size.
In the mean time prepare the pesto sauce. Put the garlic and Parmesan in a food processor and pulse until well blended. Add in basil leaves, salt, pepper and enough olive oil to form a paste. Continue to pulse until a green paste has formed. You may need to add more olive oil. Take the spinach leave and chop them roughly (If using frozen spinach leaves let them thaw properly and drain them well). Mix the spinach leave to the pesto sauce and set aside.
Remove the dough from the bowl and put it back on your flour-dusted surface and knead it to push the air out, knock the dough a couple of times. Set it again in the bowl and cover it with the same damp cloth, leave it to rest for another 30 minutes.
Preheat the oven, roll the dough out into rough circles. Spread evenly the pesto and add the mozzarella cut into chunks. Put in the oven and cook until crispy.
You have enough dough to make approximately 6 pizzas, the dough not used may be frozen.
For 4 persons.
Style: Mediterranean.
Difficulty: Easy.
Preparation time: 40 minutes + resting time for the dough.
Cooking time: 25 minutes.