Last November, Congress called pizza a vegetable. Or did they? As a Washington Post blogger explained, the debate was actually about how much tomato paste equated one full serving of vegetables. Either way, it's a bit ridiculous. But I will say that I believe pizza to be healthy. Or at least healthy enough. Seriously, just think about it: crispy thin crust; fresh, flavorful tomatoes; mild buffalo mozzarella; and simple, picked-off-the-plant basil. What's not to love?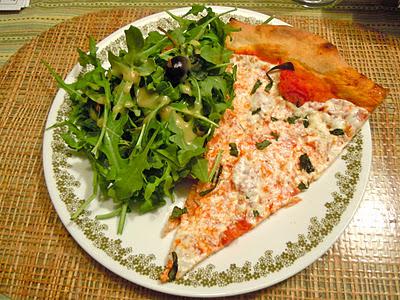 I love pizza, but the good kind, from an actual pizzeria. I could do without the silly named pies topped with pounds of oily cheese, salty tomato sauce, and greasy meats. I have no need for overpoweringly doughy crusts. (Sorry, Chicago.) I'd also be happy to never, ever taste non-fat--or even low-fat--cheese, again. Though I'll admit I do appreciate a whole grain crust. Depending on the day, I either crave a somewhat authentic slice with seasonal vegetables, or one prepared margherita-style, as described above. I enjoy it this way and almost always alongside a salad.
A random post, yes, but being as we're about one week away from the last day of January 2012, I've been reflecting on my first meal in the United States this year. You wouldn't happen to be a pizza-lover too, would you?