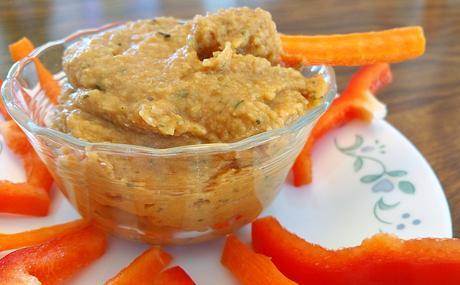 Every now and again you run across a recipe that you just HAVE to drop what you're doing and make – like right NOW.
This Pizza Hummus is one of those recipes.
So before I go any further, let me just say Thank You to Kathryn McCormick on the Vegan Meringue Facebook Group for the inspiration for this amazing recipe.
This recipe is so simple it's genius!  Hummus that tastes like pizza?  Word.
Use it as a dip for veggies, smear it on some healthy crackers for an afternoon snack, or as a spread for a raw veggie sandwich.
However you use it, one thing is for sure – it's not going to last long.
Yes it's THAT good!
And an awesome way to get the little ones to eat something healthy too

Pizza Hummus
Drain one can of chickpeas, reserving the juice.  You might want to save this juice for another recipe so don't just pour it out.  Apparently this magical elixir is taking the vegan world by storm and even has its own name – aquafaba.
Aquafaba (water bean) is being used as the perfect egg replacer and whips up the prettiest meringues you've ever seen.  Who knew this liquid we've all been dumping down the drain could be used to make everything from incredibly chewy brownies, pies, even mayonnaise?  Weird huh?
Look it up – it's all over the net.
Anyway, add your chickpeas, garlic, lemon juice, tomato paste, and all your spices to a food processor and process until it's smooth and creamy.  If you need more liquid, add 1 Tablespoon at a time of the reserved bean juice to get the consistency you  like.  I used about 4 Tablespoons and mine came out perfect.  Adjust accordingly.
That's it – seriously.
I told you this was insanely easy.  And the pizza spices just moved this everyday Hummus recipe to the top of my "I have to eat this everyday " list.
I know a lot of you are not fans of Nutritional Yeast – but seriously combined with the tomato paste it adds a "cheese pizza" kind of flavor you may not get without it.  But it is totally optional.
Print
Pizza Hummus
Prep time:  15 mins
Total time:  15 mins
Serves: 4 servings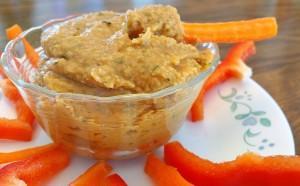 A smooth creamy fat-free hummus dip with the addition of tomato paste and pizza spices that will be sure to please. Pizza Hummus? Yes please! Ingredients
1 can chickpeas, juice reserved
2-3 cloves garlic
2 Tablespoons lemon juice
2 Tablespoons tomato paste
1 Tablespoon nutritional yeast (optional)
1½ tsp oregano
1 tsp basil
¼ tsp onion powder
⅛ tsp salt
Up to 4 Tablespoons of the reserved bean juice
Instructions
Drain the chickpeas reserving the juice
Add chickpeas, garlic, lemon juice, tomato paste, and all the spices to a food processor
Process until smooth and creamy
Add a tablespoon of the reserved bean juice at a time to reach the desired consistency
3.3.3077