Twenty Years Later, Vance Wright Adams Recalls the Streamlined Penguins Logo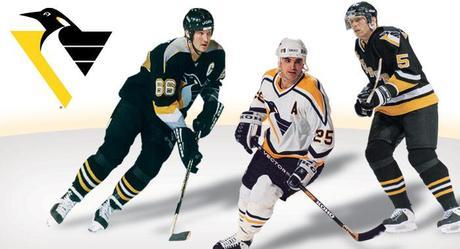 Twenty Years Later, Vance Wright Adams Recalls the Streamlined Penguins Logo
January 21, 2013
In June 1992, fresh off back-to-back Stanley Cup wins for the Pittsburgh Penguins NHL team, owner Howard Baldwin chose Vance Wright Adams And Associates to mark the team's ascendence to hockey greatness with a bold new logo and set of uniforms. The mark would replace the design that had graced jerseys since the team's inagural season in 1967.
Back-Checking the Pens, November 1992
Tradition being what it was, and Pittsburgh being what it is, the new design held on to important pieces of the team's heritage: Pittsburgh's black and gold colors; the Golden Triangle background, and the traditional penguin mascot. But the new bird reflected an optimism, boldness, and ability to master the impossible.
The streamlined Penguin was worn for fourteen seasons by legendary players such Mario Lemieux, Jaromir Jagr, Ron Francis, Joe Mullen, Bryan Trottier, Tom Barrasso, Kevin Stevens, Ulf Samuelsson, Larry Murphy, Martin Straka, Alexei Kovalev, Sidney Crosby, Evgeni Malkin, Marc-Andre Fleury and many others. In 2002, shortly after Lemieux acquired the team, the streamlined Penguin became a shoulder patch and was joined by a refreshed version of the original "Skating" Penguin, Lemieux's favorite version of the mark.
VWA's Penguins logo was last worn in the 2006-2007 season. Like the great team it represented for so many seasons, it continues to stand out — in the arena of hockey collectibles. On fan websites, national hockey forums, and wherever else passionate fans love to debate the merits of team insignia, the VWA streamlined Penguins logo consistently rises to the top.
Vance Wright Adams continued to contribute their talents to other notable projects of the time such as the Russian Penguins, Pittsburgh Phantoms, Pittsburgh Stingers and the Wilkes-Barre Scranton Penguins.
Uniform Concepts
aa3725f297ca46c4bd4f9a1.png92d36aaf29cc4fb9b5b86fc.png 2ea8c3c2062c480db03bd85.png
7d03b5ea08d042d49a37f22.pnge7704597b11245d7b42807a.pngb9cb66cbbddc4164b8e8111.png
4414de7b540c4e559bd3a0a.png058beb3e271e4cf397d2cbb.png
Uniform Sketches
18116bfc76264cf0889751b.jpgb5e659b499f243e3ac0ac8a.png
c8bf439cfb444611ae1b4f5.jpg257e1d57f9ff4af18a26bba.jpg
8583d23be3904f12a818c27.jpg3c67ce48993e440e9264295.jpg
dd103020cdf74033a35cf2d.jpg