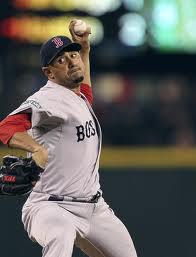 Felix Hernandez and Franklin Morales pitched the best the game the Red Sox have been involved in all year, but the Mariners came out on top, 1-0.
Morales was excellent again, pitching seven shutout innings, allowing just three hits. He struck out seven, and was involved in a scary situation in the fourth, when he tried to pick off Franklin Gutierrez on first base, but threw wide and it hit Gutierrez on the side of the face, and he had to leave the game. Can't say I've ever seen that happen before. Gutierrez was placed on the 7 day DL with a mild concussion.
Hernandez was even better, striking out 13 and allowing the Sox just five hits in going the distance. The best opportunity for the Red Sox was in the ninth, when Hernandez gave up a single and a walk with one out. Adrian Gonzalez hit a ball in the left center field alley that Michael Saunders ran down (I thought for sure that was falling in) and Will Middlebrooks popped up.
Seattle won it in the bottom of the ninth when John Jaso singled to right off Scott Atchison with first and second. Cody Ross made a strong throw to the plate, and it looked like Saunders was going to be out. But Jarrod Saltalamacchia couldn't hold on to the ball, and the Sox lost.
Not only did the Red Sox lose, but everyone else in the AL East lost as well. So everybody stays where they are.