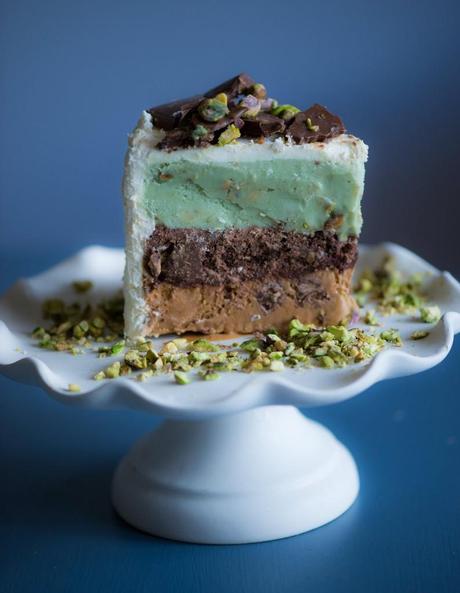 As I mentioned, Ryan's birthday fell on Wednesday this week. We spent the evening with a few friends and family, eating well and enjoying a cool summer's night. And like with most good celebrations, Ryan's face was illuminated by the light of birthday candles and an enthusiastic round of Happy Birthday.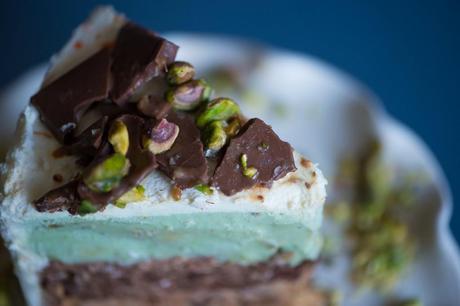 Growing up, Ryan requested an ice cream cake for his birthday most every year. So naturally, for his 30th, I wanted to make him something that was both nostalgic and sophisticated. When I found this recipe in a recent Kinfolk issue, I knew I'd hit upon the winner. Pistachio and salted caramel ice cream were natural choices for my husband's taste buds, but this recipe can easily be adapted to suit your ice cream needs.
As you can see from the recipe instructions, this ice cream cake takes time. If you have it, it's well worth the hours spent. Ryan's Pistachio Caramel Ice Cream Cake turned out beautifully….and it tasted even better.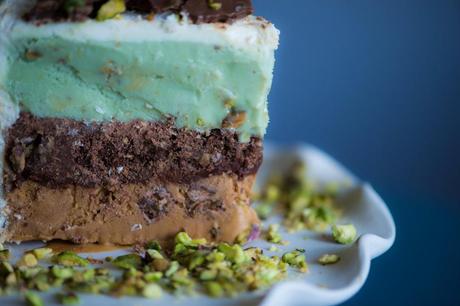 Pistachio Caramel Ice Cream Cake
*From Kinfolk
1 quart/1 liter (32 fluid ounces/945 milliliters) salted caramel ice cream
1 recipe Snappy Chocolate (see recipe below)
9 ounces/255 grams chocolate wafer cookies, crushed
1 quart/1 liter (32 fluid ounces/945 milliliters) pistachio ice cream
1 recipe Chocolate Ripple (see recipe below)
1 recipe Cream Frosting (see recipe below)
Chopped Pistachios and Caramel Bar for topping
The morning before serving, place a 9-inch cake ring on a parchment-lined baking sheet in the freezer for at least 2 hours. Working quickly, tear the container off the vanilla ice cream. Use a large, sturdy knife to cut the ice cream into thick but manageable slices, the broader the better. Without letting the ice cream soften, firmly pack it into the prepared metal ring in an even layer. Try not to leave air pockets. Freeze ice cream in its ring until completely hard, around 1 1/2 to 2 hours.
In a medium bowl, stir the wafer crumbs into the Snappy Chocolate topping until the crumbs are uniformly damp. Again working quickly, pull the cake ring from the freezer. Spread the soft Chocolate Ripple mixture over the vanilla ice cream, and then press the coated crumbs over the chocolate. Freeze for another hour to set.
As before, remove the second ice cream flavor from its packaging. Cut it into slices and fit these into an even layer on top of the crumb layer. Freeze the cake in its pan, covered with plastic wrap, at least overnight (or up to a few days).
The day of serving, unmold the cake by warming the metal ring with a cooking torch (a hair dryer can also be used), then slipping it up and off the cake. Refreeze the cake for 30 minutes to set the surface. Decorate the cake as desired with Cream Frosting. If piping any decorations, first coat the cake with a base layer that covers the ice cream. Let this firm up in the freezer, and then pipe. This way all the frills and swags will have better footing upon which to adhere. Adorn generously with chopped pistachios and caramel bar. Use a warm knife to cut the cake.
Snappy Chocolate
5 1/4 ounces (150 grams) high-quality dark chocolate, chopped
1/8 teaspoon fine sea salt
3 1/2 ounces (100 milliliters) refined coconut oil
Melt the chocolate, coconut oil and salt in a small saucepan over low heat, stirring often until glossy. Set aside at room temperature until needed (it should be pourable, but not at all hot when used).
Note: Using refined coconut oil means the finished topping will have less of a coconut taste, making it more accommodating in regards to flavor pairings and use. If that's not a concern, feel free to use virgin instead.
Makes about 1 cup
Recipe: Chocolate Ripple
2 1/2 ounces (70 grams) high-quality dark chocolate, chopped
1 tablespoon (15 milliliters) light corn syrup
2 1/2 ounces (75 milliliters) heavy cream
1/4 teaspoon vanilla extract
Place the chocolate and corn syrup in a heatproof bowl. In a saucepan over medium heat, warm the cream to barely below simmering. Pour the cream over the chocolate and let stand for 5 minutes. Add the vanilla. Starting from the center, stir the cream into the chocolate until the mixture is smooth. Let stand at room temperature, stirring regularly, until thick and spreadable.
Makes enough for a 9-inch (23-centimeter) cake
Recipe: Cream Frosting
1 1/2 cups (360 milliliters) heavy cream
1/2 teaspoon vanilla extract
2 tablespoons (30 grams) superfine sugar
1 teaspoon powdered gelatin
2 tablespoons (30 milliliters) milk
Combine the cream, sugar and vanilla in a chilled bowl and beat to firm peaks with a large wire whisk or electric mixer. In a small saucepan, soak the gelatin in the milk. Once the milk has been absorbed, heat the gelatin over low heat until it melts. Quickly but gently, fold the gelatin into the whipped cream. Use immediately as is, or tint it with a food coloring of your choice.
Note: This recipe may be doubled for more elaborate decorating.
Makes about 3 cups