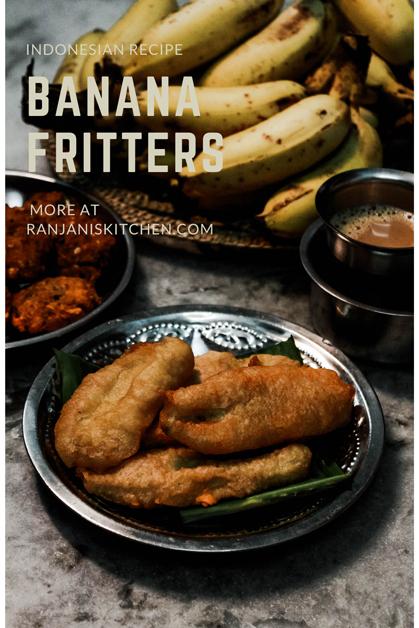 pisang goreng | indonesian fried banana recipe - popular snack of indonesia, singapore, malaysia and Brunei.Pisang is banana in malay language. Here in singapore you can see separate shops in hawker centre serving hot pisang goreng. When i eat it first time, i can relate this taste with pazham pori kerala recipe. They used to add whole banana. Some shops use sliced pisang. I love to have sliced version than using whole bananas. So i made that way. If you want you can use whole banana. I was planning to make ethakka appam kerala recipe video. Both have same method so i posted this.
Where can I get goreng pisang?
Here in singapore, you can see seperate stalls in many hawker shops. They usually start by 11 am and close early by 5 or 6 pm. They used to fry after getting your order only. So you can get crispy and hot banana fritters.
Where do banana fritters originate from?
I read in some articles that deep frying technique from west africa. But i would say kerala pazham pori also has the same method. I am not sure where the banana fritters originates firstly.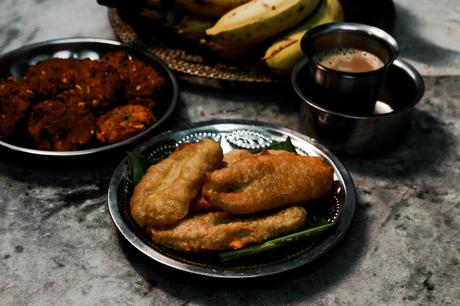 Banana recipes:
Video recipe of kerala pazham pori:
you tried this pisang goreng recipe? then do tag your picture via instagram @ranjaniskitchen and hashtag it as #ranjaniskitchen
Ingredients used in this recipe (check out ingredients card for measures and variations)
Banana - i used small variety of bananas. you can use any variety.
Maida / all purpose flour - i have seen using corn flour also in traditional pisang goreng. i want to make it both pazham pori and pisang goreng in same method so i used maida
Rice flour - add crispness to the recipe
Jaggery / sugar - its completely optional
Salt - small amount is enough
Baking soda - gives puffiness to the batter after frying
Turmeric powder - for colouring (optional)
oil - to deep fry pisang
How do you make fried bananas?
Peel the banana skin and slice into pieces (vertically)
In a mixing bowl, add maida, rice flour, jaggery, salt, baking soda and turmeric powder.
Mix everything well. Add water gradually and stir to form a batter(not too thick or too thin)
Heat a wok and add oil to fry pazham pori..
Once the oil is heated, coat the sliced banana pieces in flour batter and drop it in oil.
Keep the flame low and cook equally on both sides.
Drain the oil and serve with tea or coffee.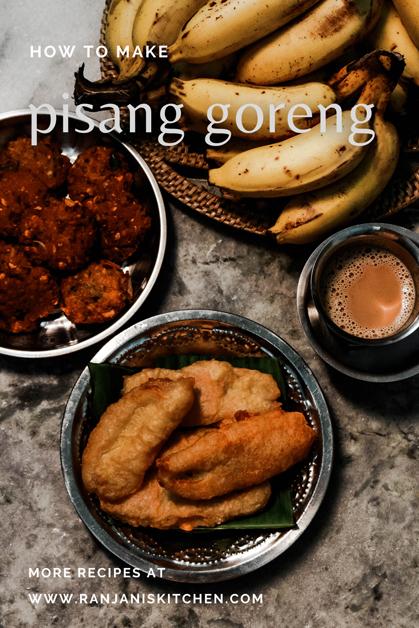 (Visited 5 times, 5 visits today)