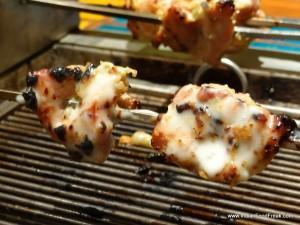 It is my love for the concept of live grill on the table that keeps taking me back to joints like Barbeque Nation, Pirates of the Grill and other similar joints. After hearing about the new menu introduced by the Pirates of the Grill, I decided to immediately give it a try. Another reason for my excitement was that their new menu was launched by the famous Highway on My Plate duo, Rocky and Mayur themselves. I went there for lunch without giving them a hint that I will be reviewing as well. The place was packed to capacity as always.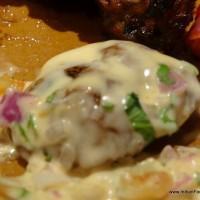 The starters that were outstanding included Chili Garlic Soya, Amritsari fish tikka, Brazilian churassco pineapple and Brazilian churassco chicken. Amritsari fish tikka had the right tinge of ajwain, while the chicken was well spiced.

The dishes that were average included subz motia tikki, gosht peshawri seekh and paneer tikka aatashi. The moti in the subz motia tikki was sabudana which did justice to its name. Crisp from outside and soft inside.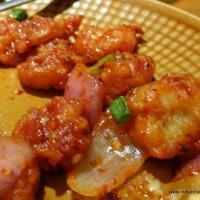 The one to which you could give a pass included murgh tikka hari mirch, potato salsa and garlic green prawns. The murgh tikka was high on salt while there was nothing garlicky about the prawns. Potato Salsa was soggy instead of being crisp and piping hot.
Soups had a choice of Veg clear and chicken hot & sour. Hot n sour soup was not up to the mark while the Veg Clear Soup tasted fresh. From salads I tried, Korean kimchi salad, Lynnoise chicken salad and seafood & pepper in vinaigrette dressing. Kimchi was not the fermented version and on asking the chef I was told that they make it fresh everyday (Really ???) Seafood Salad was again high on Salt and chicken one was average.
W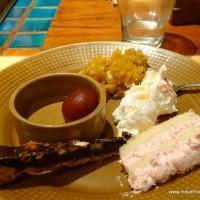 ith barely any space left in my belly, I moved towards the main course. Their dum murgh biryani is always a must try. Kung pao chicken was again too salty. But grilled fish lemon butter Sauce was cooked to perfection. It had   brilliant flavors well detailed

Other Non-Veg options included mertaban ka meat, kadhai chicken while the Veg options included dal makhni, paneer tikka makhni masala, sarson ka saag, soya aaloo lajawab, kadhi pakoda, pindi chole, mutter makkai ki tehri and vegetable dumpling in hoisin sauce.

The thought of trying Desserts was now daunting me but still with lot of guts I picked up another plate. Their specialty, moong dal halwa was classic as always. Chocolate and nut pie was spot on with the crisp base. Strawberry crush cake was nice and moist while fruit triffle was sweetened to perfection. However, gulab jamun could have given better flavor if stuffed with pistachio.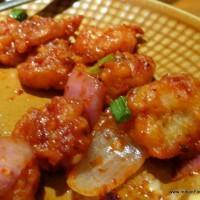 Talking about the Service, I have observed a disturbing trend here. If you ask for something, they will very courteously listen and tell you that they will get that and then either forget about it or take unreasonably long to fulfill your request.

To back my statement with an example, I asked for mint chutney. I was told that its coming but I had to ask thrice before it actually came to the table. There are other instances of same nature which one has to face like non refilling of water unless requested.

The point that they have improved in their service is not flooding the plate of the person with a starter in one go. We were asked about a feedback on starters. I couldn't stop myself and started pointing out to the defects one by one. The feedback was well accepted and we were served with chili garlic prawns which were spot on. However, the murgh tikka and potato salsa were still the same

The overall experience remains average at Pirates of the Grill. Most of the dishes were high on salt. There was nothing new in the menu. I have seen them serving all this stuff in the past. I feel they really need to come out with some new themes and food festivals to give an extra kick to their restaurant. It's high time this restaurant gives its customer a new variety on the menu.

Ratings (Out of 5)

Food: 2.5 | Ambience: 3.0 | Service: 2.0 | Overall: 2.5

Cost per head (Inclusive of Taxes): Veg/Non Veg: Rs. 586/626 | Credit Card: Yes | Alcohol: Yes

Address: Ground Floor, MGF Mega City Mall, MG Road, Sector 28, Gurgaon | Phone: 0124-4013333

- Hardit Singh Bedi