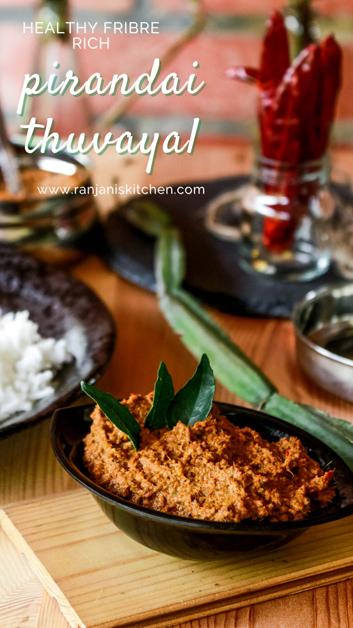 pirandai thuvaiyal | pirandai chutney - healthy recipe to include atleast once in a week on our food.
What is pirandai thuvaiyal?
Pirandai thuvaiyal is a recipe which is made using the traditional herb called "pirandai" or "veldt grape" . The fibre rich plant is good to have as thogayal as it has less oil and good for all ages. We should clean it properly before cooking. While cleaning the pirandai, remove the fibres and strands well. Try to use tender plants as it is good to intake. After cleaning, saute with the remaining ingredients and grind to coarse or fine chutney.
What is pirandai in English called?
Pirandai is called "veldt grape" or "adamant creeper" or "devil's backbone" in english. Its botanical name is "cissus quadrangularis". In hindi it is named as "hadjot".
Is pirandai good for health?
Yes,undoubtedly it is very good for your health. This herb is used in siddha and ayurvedic medicine.mainly veldt grapes are used to treat constipation. It cleanses the intestine and heals gastritis,indigestion and upset stomach.
Can we eat pirandai daily?
My mom and grandma say we cannot eat pirandai daily as it has lots of fibres.if we consume daily it affects the outer layer of our intestine. So I would recommend we have this once a week.
Is Pirandai good for ulcers?
Yes it is good to treat ulcer.the presence of sitosterol and triterpenoids helps to heal the ulcer.
What can you do with Pirandai?
We can make many interesting recipes using pirandai (adamant creeper).for example we can say, pirandai pickle, pirandai kuzhambu, pirandai salt, pirandai vadagam,pirandai podi and pirandai rasam.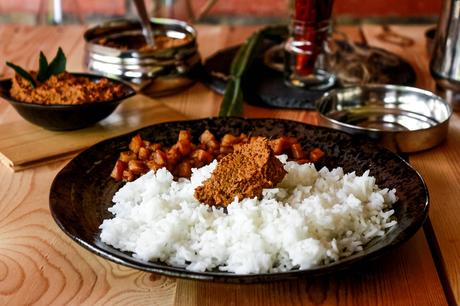 Serving suggestions:
My personal favorite of serving this pirandai thogayal is with hot steamed rice added with lots of gingelly oil and accompanied with potato fry or any stir fry recipes. You can also serve with idli or dosa.
Some stir fry recipes
Tamarind - I would recommend using tamarind to avoid the itchiness of pirandai. You can also replace it with adding tomato.
Itchiness - after cleaning the pirandai there will be itchiness in your hands, to avoid that you can apply oil on your hands before cleaning and after cleaning dip your hands in hot water for 3 to 5 mins. wipe your hands and apply some oil.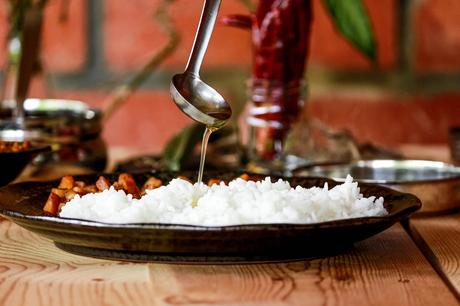 Ingredients:
Video recipe for pirandai thuvaiyal recipe:
how to make pirandai thuvaiyal:
Clean pirandai (veldt grape) by removing thick strands on sides and fibres.Rinse in water 2 to 3 times and keep aside.
Heat a kadai, add gingelly oil, then add red chilies and urad dal. Saute in low flame till the dal changes to golden
Now add ginger,garlic and curry leaves. Stir well until the raw smell goes off.
Add ¼ cup of chopped or shredded coconut and saute well.
To this add amla size tamarind. In the heat itself it becomes soft. Transfer all the ingredients to a separate plate and cool down.
In the same kadai, add cleaned and rinsed pirandai and saute until it shrinks well. You can feel the nice pirandai aroma. Do it in low flame. Now turn off the stove and transfer the pirandai to the other ingredients.
Cool them completely and transfer to mixie. Grind to fine or coarse consistency according to your taste.
Serve with hot steamed rice with a glimpse of gingelly oil or pair with idli or dosa.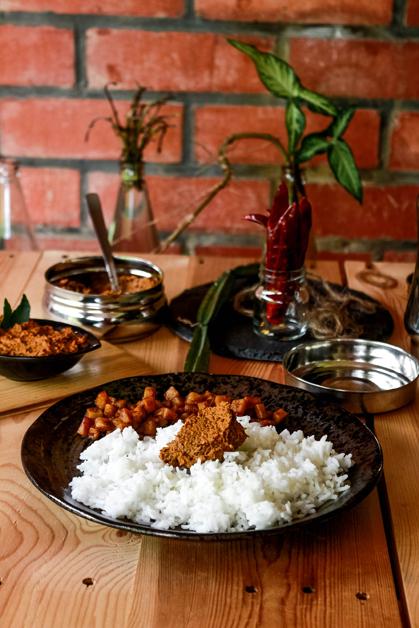 (Visited 64 times, 3 visits today)