I bleached and dyed my hair many times than someone goes to a dentist, and that is not an exaggeration. So finding a good product to keep my hair healthy and soft is a must-have! I also happen to often see a hair vinegar in the best selling section of Althea, my go-to online beauty shop. Eventually, I gave in and bought the product since I also often hear about people using vinegar on their hair and I'm curious how it works. And finally, I know! Curious? Keep reading my Piolang Raspberry Hair Vinegar review.
WHAT IS IT?
Piolang Raspberry Hair Vinegar is a hair treatment that promises to give you a healthy scalp and hair. Since vinegar is a fermented food which has been used in the olden days. It has a lot of Vitamin C, amino acids, acetate, and more so a vinegar can remove active oxygen and wastes. But unlike an ordinary vinegar, this one is gentle on the hair, moisturizing, and no need to dilute with water.
PERFORMANCE
APPLICATION: After shampoo, just directly sprinkle the Piolang Raspberry Hair Vinegar to your hair. No need to dilute it with water.
SCENT: It smells like raspberry, and no stinking sour smell of vinegar at all.
PACKAGING: It is simply packaged in a plastic bottle and contains 500 ml.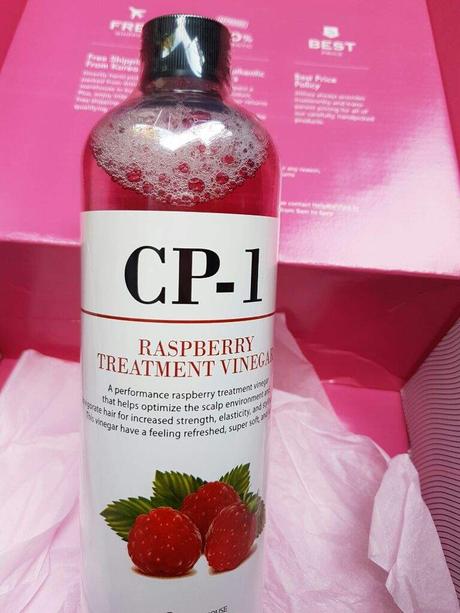 FORMULA: It may not have the sour smell of a vinegar, but it does have it's formula, at least when it comes to being watery. This product is so watery, it kinda hard to apply into your hair because it drips a lot and you'll feel like you're using too much. Or worst, you won't notice you're using too much and you'll realized you just used half the bottle.
RESULTS: My mom and I who color our hair a lot, especially me since I also bleach my hair, uses this. It does make our hair feel soft, look shiny, and smells so good but, personally, I feel like this one is more suited to those who perms their hair or get rebinding treatment and not for those who like to keep their faux hair color vibrant because this hair vinegar strips off the hair colors.
VERDICT
PROS: It really makes your hair look shiny and feels soft, but not so sure about healthy scalp because my dandruff is still present when I used this. However, it does makes your hair smell so good!
CONS: This is not for those who like to keep their hair color vibrant. It strips off artificial hair color. And the formula is too watery, it's hard to control the amount of product when you apply it to your hair. I highly suggest to use a cup.
WHERE TO BUY?
You can buy a 500 ml Piolang Raspberry Hair Vinegar in Althea for Php350. They offer free shipping to the Philippines for orders Php999 and above, and $50 for those who lives in the US. They also ship to Malaysia, Singapore, Indonesia, Thailand, and Vietnam.
What do you think of this Piolang Raspberry Hair Vinegar review? Have you tried using vinegar in your hair before? Share your thoughts in the comments below!