Let's talk about the phenomenon that is Pinterest.
Still in it's beta-phase, Pinterest is a global, online pinboard. Much like other social media platforms, you acquire followers and follow others. Pinterest users share and "re-pin" photos of hair and makeup styles, repurposed wedding centerpieces, yummy nacho platters and – of course – lustworthy fashion.
However, because of the inherently conceptual nature of pinboards in general, the fashion that ends up on Pinterest doesn't always translate directly into the every day world. Some of us just want to incorporate a little style into our look without being mistaken for fashion blogger.
Between the skirt and Peter Pan collar, Alexa Chung (see below) has created a quirky and whimsical look. Unfortunately, it's not an ensemble that most of us could wear and still be taken seriously. So I've taken her look and translated it into something you could wear in your real life.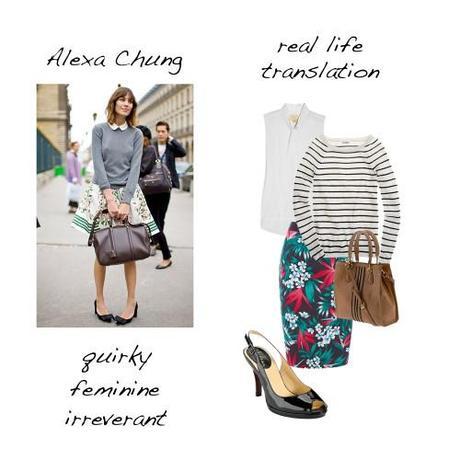 A few items of note:
Avoid skirts that look as if they could also be cafe curtains; opt for a bolder floral instead
When pairing a sweater with a skirt, go for a fitted look
Bows on shoes are tricky, wear with caution
Always wear a sleeveless blouse under a sweater
Shopping credits: sweater – J. Crew, blouse – Boy, skirt – Oasis, bag – R&Em, shoes – Cole Haan.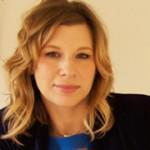 Nicole Longstreath is a wardrobe coach in Orange County, CA and author of Reclaiming Your Wardrobe, an ebook dedicated to building a smarter wardrobe. She is also hosting a free event on May 1st. Come out to learn her priceless wardrobe secrets, including: how to organize your closet, maximizing your existing wardrobe and a daily outfit formula. Click here to register!