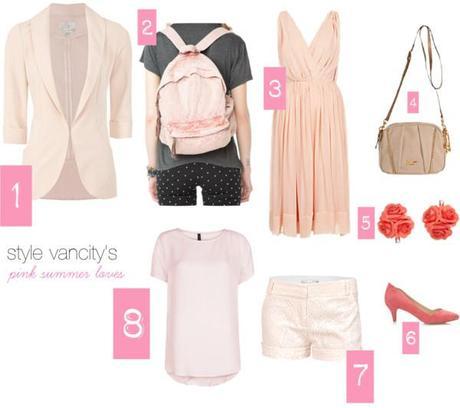 Pink Summer Loves by stylevancity featuring john galt
1) Open Blazer $42 CAD - Dynamite 2) Washed Fabric Backpack $42 CAD - Brandy Melville 3) Wrap Midi Prom Dress $120 CAD - Topshop (the Bay) 4) Rosata Crossbody Top Zip $130 CAD - Guess (the Bay) 5) Rosette Hair Clip Set $2.96 CAD - Forever 21 6) Kitten Heel Pumps $29 CAD - Forever 21 7) Crochet Short $12 CAD - Dynamite 8) Asymmetric Hems Blouse $21 CAD - Mango
This is my sweet collection of pink coloured favourites from some of my preferred brands. Up first is the light coloured blazer (1) from Dynamite that looks great over any bright coloured top paired with some beige skinnies. Next from the one and only Brandy Melville is a washed out backpack (2) that would be ideal for the beach or fashionably camping (just kidding). For that summer cocktail party or just watching fireworks, I'd definitely wear this elegant V-neck dress (3) from the Bay. And again from the Bay we have a beige/pinkish purse (4) that would add a touch to any summer look. Forever 21 is notorious for their range of accessories and these rose hair clips (5) are no exception; I'd wear them to spice up a plain dress. These coral pumps (6) can be worn to complete any summer outfit and give that pop of color. As a lover of crochet and lace I couldn't leave out Dynamite's form-fitting shorts (7) which I'd wear under a dark gray blazer. And lastly we have a light chiffon tee (8) from Mango which could be worn over printed leggings with flip flops for that casual look. 
Let me know which ones you like!