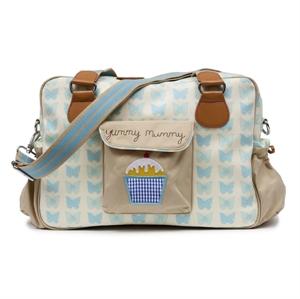 The Yummy Mummy brand is well known and becoming ever more popular it is Pink Lining's most popular item. With distinct features and high quality detail you will definitely feel like a yummy mommy with this changing bag.
The Yummy Mummy changing bag has the authentic embroidered 'Yummy Mummy' slogan above the pretty cupcake design. With Two large side pockets they easily provide access to bottles, toddler cups .
The internal 'shocking pink' lining is water resistant which is fabulous when carrying items that are prone to leaking, The Pink Lining range has plenty of useful pockets with a place for everything you and your baby could ever need.
Size: 28 x 38.5 x 15cm (h x w x d)
The beautiful bag includes a detachable and adjustable shoulder strap, a wipe clean padded cupcake printed foldaway changing mat great for out and about, a clear cupcake printed zip mess bag.
So why not treat yourself to this stylish baby bag and be the envy of all your mommy friends. After all mommy deserves a treat too.
They retail at £75.00 with free post and package.