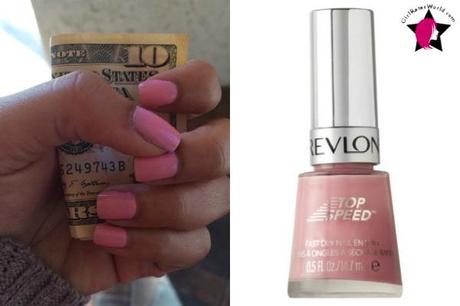 Ooh. La. La. Nothing says spring like a pale, soft pink nail polish. This polish, pink lingerie is just that pink. How girly, right? Every time I look at my nails I think about one of these 3 things: (1) Bubblicious bubble gum, (2) Cotton candy or (3) Lil Kim's Hardcore album cover from the 90s. This one of the many Top Speed Revlon nail polish swatches I've done on GirlRatesWorld.com. It's honestly one of my favorite drugstore brand nail polish collections.
I'm wearing two coats of the blue-based Pink Lingerie in this post. It has good color pigment. But it is a bit streaky in my opinion. If the pigment was a bit more opaque it would be perfection. I think this hue would look good on all skin tones and it is sure to please the 'girly at heart'.
Are you loving the spring colors that are popping up everywhere? How are you bringing spring shades into your fashion this year? Be sure to leave a comment below!