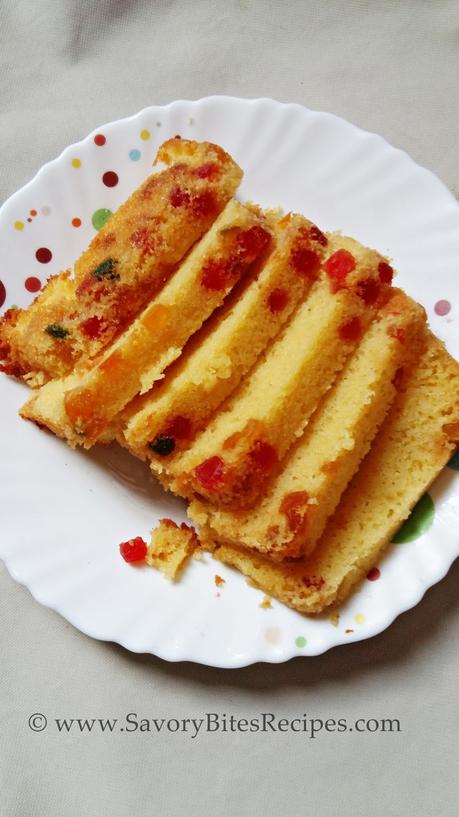 Pineapple Cake (Britannia Pineapple Cake)
First,in a mixing bowl,beat butter well till its fluffy.
To this add yolks and sugar.
Beat well till sugar gets dissolved well.
I added all egg yolks at the same time.
In another mixing bowl,sieve the flour,salt and baking powder twice.
In a separate mixing bowl,beat the egg whites,till they are fluffy.
Now,add the egg whites to egg yolks mixture.
Slowly add the flour mixture to this egg mixture in batches till well incorporated.
Add all the flour and mix well to form a smooth dough.
Add milk and essence to this batter and mix further.
Now take 1 tablespoon of this batter and coat the tutty frutty.
Add the tutty frutty to the batter.
Preheat the oven at 356F.
Line a loaf pan,with parchment paper or butter paper or grease with butter.
Pour the batter in the loaf pan and tap it on kitchen counter to release the air bubbles.
Now cover the pan with aluminum foil for 20minutes.
Then remove the aluminum foil and bake it at 320F for 30 minutes or till the knife comes out clean.
Let the cake cool before take it out of the pan.
When cooled,remove it from the pan and cut in desired pieces.
Enjoy this yummy cake with tea!