Make your Friday night and Weekend's special with this delicious and healthier Whole Wheat Garlic Naan Pizza with Grilled and Shredded Chicken! This is the best, easy and healthier Pizza you will try.

A new post which will make all Pizza lovers very happy, as this is a homemade,Wheat Garlic Naan Pizza with very juicy Grilled and shredded Chicken. Just go ahead and try it,you will love it.
I was holding back my pizza cravings,as I wanted to avoid all butter ,flour and cheese that go in a restaurant /take out Pizza,so finally I put an end to this misery by making this homemade deliciousness of naan pizza. Pizza turned out so delicious that I made the it again next day with leftover chicken.
The best part of this recipe unlike many regular pizza recipe's is that you do not need All Purpose Flour and Butter.Although since pizza should have cheese,so can't do away with that but you can always use in moderation.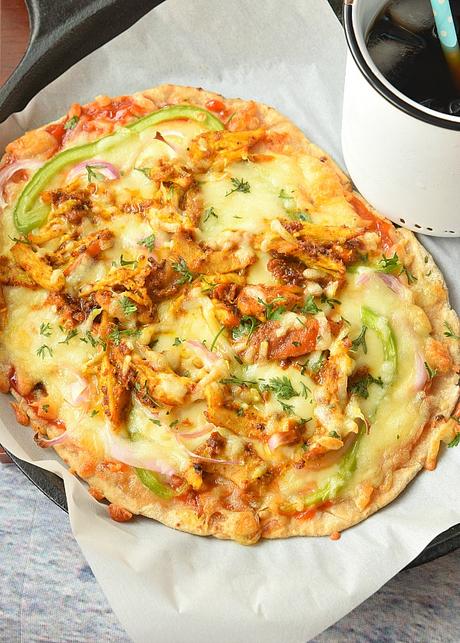 Firstly,for the marinade,grind together ginger,garlic,green chili /pepper ,mint leaves,cilantro with some cream and onion sliced. Add very little water to make a smooth paste of this.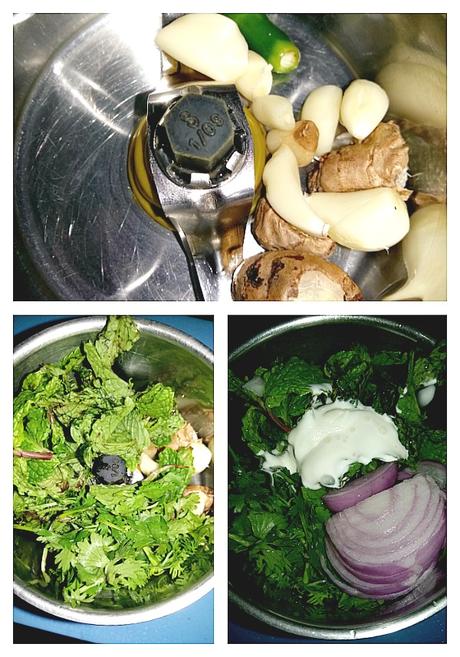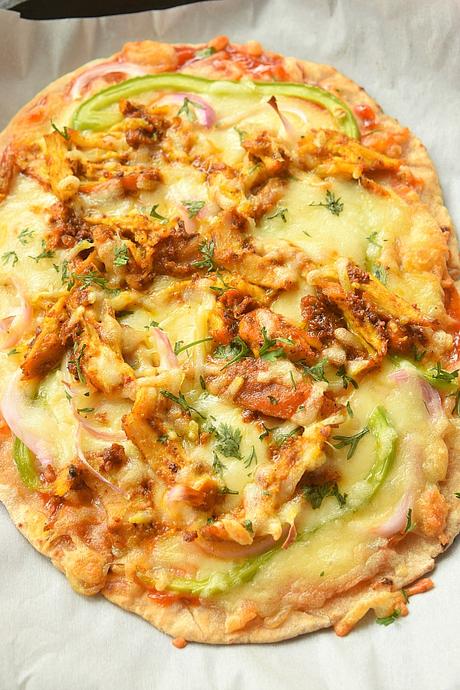 To marinate chicken,wash and dry the chicken pieces. Here I have used chicken leg/thigh pieces,bone-in. Apply the yogurt,spice powders and green paste to this chicken with salt and some orange food color(optional). Next you have to grill them by heating a grilling plate or using oven/griller.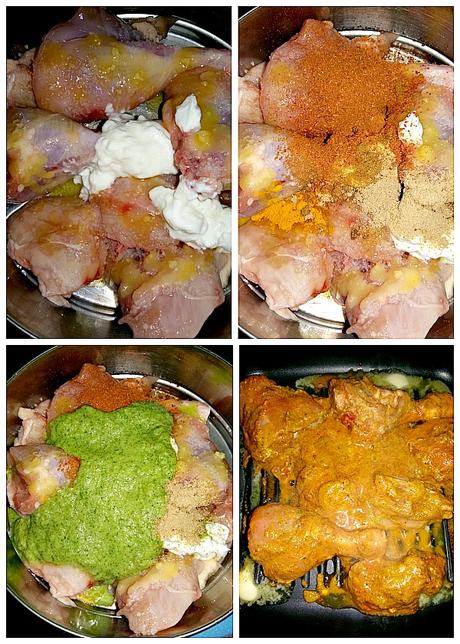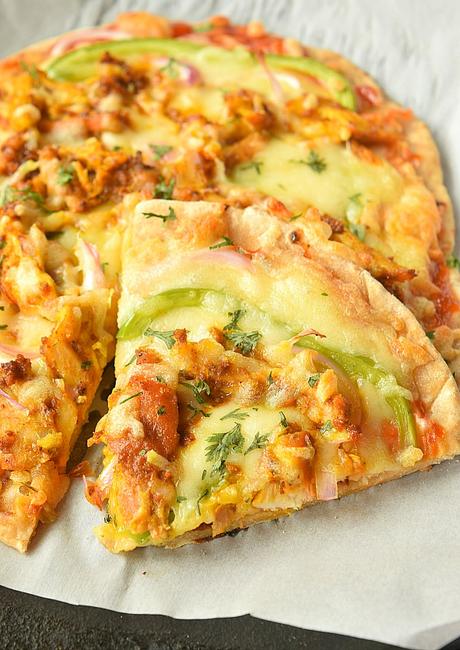 While the chicken is grilling,you make the dough for Naan. Here i have used whole wheat flour,add all the ingredients mentioned and make a soft dough.
To make naan,pinch a dough ball(as per the size of naan you prefer),roll it into a oval shape.Make sure its neither too thick (this will make it chewy) and nor too thin(this will not hold the veggies and chicken).
After adding all the things to make pizza,just bake it for 10-12 mins or till done.
I had shared another recipe of Mint Garlic Naan(with yeast) check the recipe too.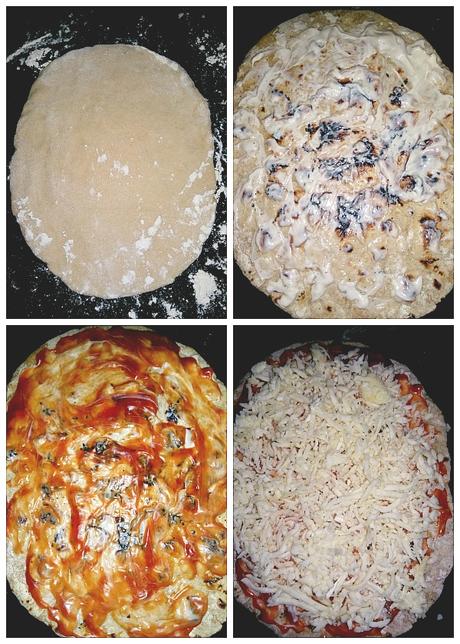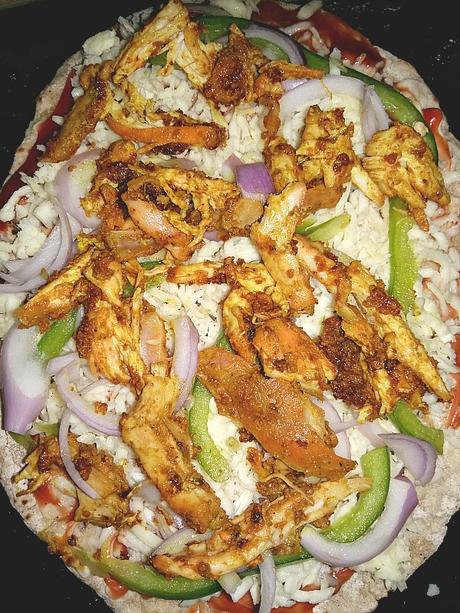 \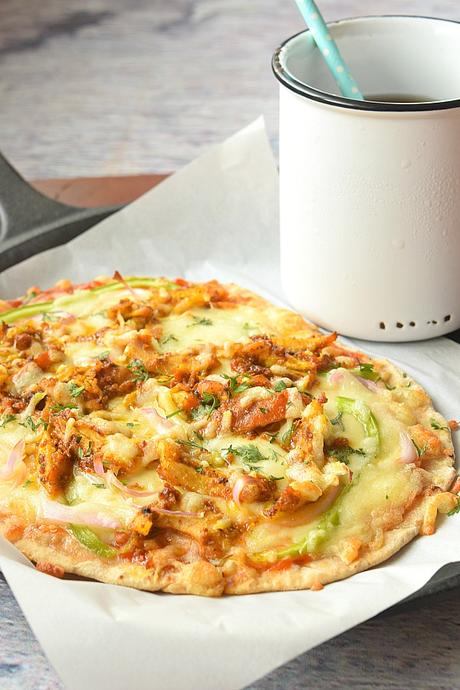 By Prasanna Hede
Published 07/05/2018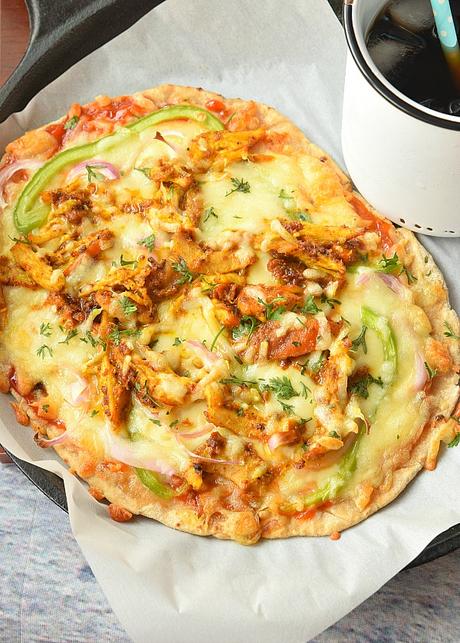 Very delicious and easy Naan Pizza Recipe,with grilled and shredded Chicken.
Ingredients
Instructions
Firstly to grill the chicken,make the green paste as per shown in step by step pictures.
Next marinate the chicken with all the ingredients mentioned under marination.
Heat a grilling plate or oven in grill mode.
Apply butter or oil to the plate /rack,and place the chicken pieces.
Grill them till done.
When done,cool and shred.
To make naan,in a mixing bowl add all the ingredients mentioned.
Add very little water in batches to make soft dough.
Pinch a dough ball,roll it neither very thick nor very thin.
Apply water to one side of the rolled naan.
Heat a griddle,place the water sided naan on pan and cook it.
After a while,flip the naan and cook on both sides.
You can optionally add butter or oil to avoid sicking naan to pan.
To make pizza,arrange all the 3 naan,add mayonnaise,tomato ketchup,cheese, veggies and chicken.
Bake in a preheated oven,for 12 to 15 mins at 160 C/320 F or till done.
Serve immediately,with some chopped cilantro(optional)
If you liked my recipe then do Save this Pin↷