Los Angeles people are like pinatas.
We all want to be the shiniest, brightest, and most gawked after, even if we don't admit it (yes, I am talking to you). We all have hard, outer shells because we must survive in a world of constant rejection and competition. And we all must attempt to date each other without having any clue what might be on the inside or how soon the contents may explode.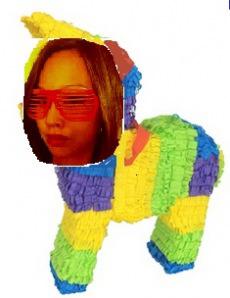 I want to believe that most people are filled with yummy sweets and tasty treats and overflowing goodness. Experience will tell me that I am wrong. Or maybe I didn't crack the surface hard enough? Experience will tell me that most people give up easily in searching for another's true core. However, I can understand that being blindfolded and exerting all your strength on one item can be exhausting and frightening.
So, we have a pinata problem. Does having more colorful plumage mean that there will be a better surprise on the inside? No. It may just contain confetti or peanuts or even worse, nothing. Does having the thickest, most dense, and most bulletproof shell mean that people will be more motivated to crack it? No. It may mean that you will be denounced as being not worth the time. Does shying away from even attempting to take a swing at another's pinata barrier mean that you will ever win the prize? Definitely not.
I challenge you to identify your inner pinata. What do you have on the inside? Are the contents of the inside worth another person's struggle of breaking down the outside? Are you brave enough to handle the surprise of getting to know someone so well that their shell breaks and you discover the truth? If you hesitate in answering any of these questions, then we have some work to do. The good thing, however, is that having work to do means there is greater opportunity for me, you, and whoever it is that you want to date to grow and be better.
Ready, set, go,
Cleo