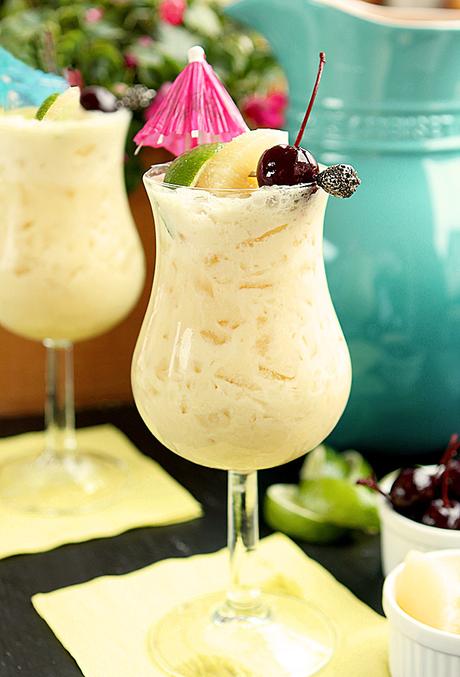 This is a sponsored post on behalf of DOLE® Canned 100% Pineapple Juice. All opinions are my own. We appreciate your support for the brands that make Creative Culinary possible.
Two songs that are synonymous with cocktails, the margarita and the piña colada. I love both of them. It's pretty evident if you've been a reader for a while that I'm a margarita fan, but somewhere along the way I've forgotten the poor piña colada and it's time to right that wrong. Ah...can you hear that song too? I could use an escape...maybe I can't head for the cape but let's try this piña colada - a classic cocktail, and see if it helps. You with me?
"If you like Piña Coladas, and getting caught in the rain.
If you're not into yoga, if you have half a brain.
If you like making love at midnight, in the dunes of the cape.
I'm the love that you've looked for, write to me, and escape."
One thing these two cocktails have in common when made at home? They are far superior to most you've probably had that are mixed with a pre-made concoction that is combined with either tequila or rum and badda boom, badda bing...done. While pre-made might seem convenient, the truth is that it's really not that hard to mix a couple of ingredients and take a cocktail from 'It'll do' to 'WOW!'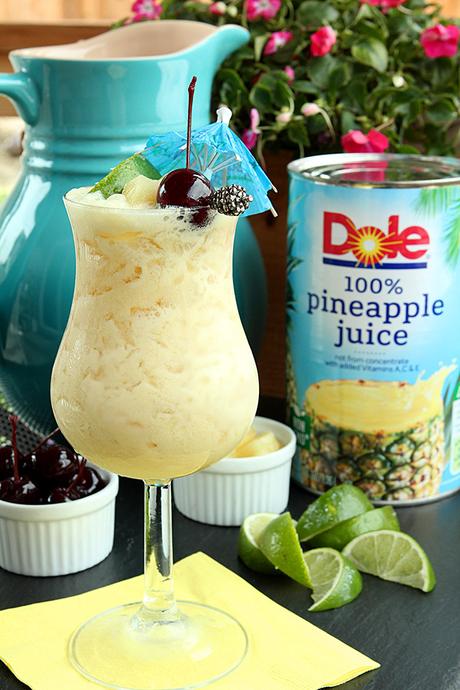 I always keep some DOLE® Canned 100% Pineapple Juice in my pantry. While I have no problem using fresh lemons and limes for recipes, pineapples are a bit trickier and I've never actually tried juicing one! It's so much easier to use the Dole product and I use both the large can, for recipes like this, and the smaller 6-oz cans that come in a 6-pack for several recipes, including breakfast smoothies and cocktails. I'll also enjoy it at breakfast instead of a glass of OJ.
Maybe it's my yearning for a vacation in the tropics? I think I'll pretend I'm somewhere tropical on July 4th (it will certainly be hot enough!) and make a big pitcher of this refreshing drink to serve with some chicken skewers brushed with my favorite pineapple and jalapeno barbecue sauce. It's a great party drink; everything is blended together and can be kept in the fridge in a big pitcher; just pour over ice when ready to serve.
My next pineapple project is going to be one of my favorites desserts, a pineapple upside-down cake. While I might love using a fresh pineapple when I make one of those, I always substitute out the milk in the recipe for a like amount of pineapple juice; it makes a subtle (and perfect) difference. It really is the King of Juices™ in our home!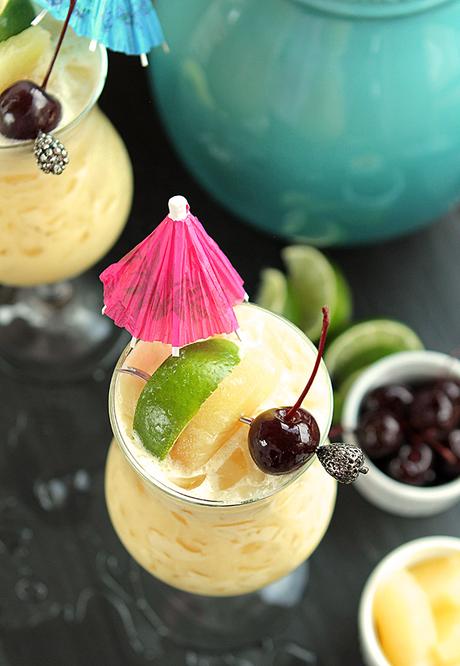 While there are a million recipes for piña coladas scattered across the web, I took some liberties with the norm and loved the results. I've learned that mixing a combination of juices works with my favorite margarita, so went that route here and this cocktail includes pineapple juice, orange juice and lime juice.
Some dark rum and demerara simple syrup add an extra depth of flavor that everyone loved; adding some whole pineapple to the mix gave it a nice texture with some body. While many recipes serve this as a frozen slush-type drink, I much preferred it poured over crushed ice; I love that bit of crunch.
Refrigerate your mixture for at least an hour (more if possible) so that the ice doesn't melt quickly when served but just serves to keep it super cold. This recipe serves 4 but trust me...double it and have a couple of friends over and I promise you there will not be a drop left to spare. Cheers!

Save Recipe
Ingredients
Instructions
DOLE® Canned 100% Pineapple Juice, the 'King of Juices™, is a natural way to add excitement to your favorite
food and drink recipes. It's a delicious change of pace that always delivers exhilarating flavor.