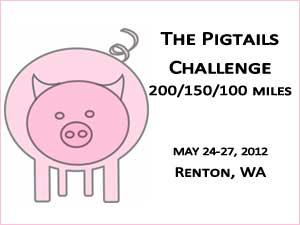 The Pigtails Challenge is a new event scheduled for 24th May 2012. Organised by the possessor of Pigtails, Van Phan, this event takes place in King County Park, Renton WA.
The course is a 10 mile loop on a dirt path around Lake Youngs Watershed.
900ft of elevation gain per loop.
200/150/100 mile options with
72/56/32 hour cut-offs
Field limit: 75 runners
According to Ultrasignup the event has sold out and as there's only 2 weeks to go before the event and prospective candidates should get clicking forthwith by emailing the RD.
Part of the newly created Washington Grand Slam:
2012 Washington Grand Slam Plus
Badger Mountain Challenge 100 Lumberjack 100 Pigtails Challenge 100, 150, or 200 Cascade Crest Classic 100 Plain 100
Race website: http://sites.google.com/site/pigtailschallenge/home