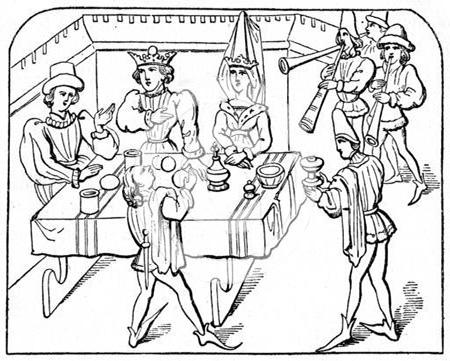 We've all seen those "Who is going to pay for your funeral?" ads on television. I'll bet that really wasn't on the mind of the Lady Katherine Howard (right), wife of the Duke of Norfolk, when she died in 1465.
I recently came across the shopping list for the banquet served on the day of her funeral.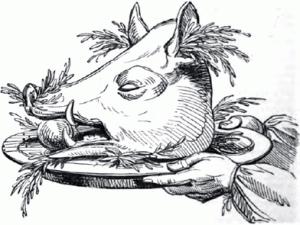 2 great boars
24 capons
12 great oxen
140 chickens
40 sheep
30 does
12 hogs
48 partridges
70 pigs
14 pheasants
12 swans
7 peacocks
80 geese
36 mallards
200 rabbits
36 plovers
800 eggs
30 gallons of milk
3 gallons of honey
13 bushells of flour
All these were cooked with "all manner of spices as much as cost fifty-three shillings and elevenpence." Upper class households of the time purchased numerous spices to flavor their food – pepper, cinnamon, ginger, saffron, mace, cloves – so the spice spend was obviously worth a mention..
A chicken cost a penny, a goose sevenpence and a sheep one shilling and sixpence.
It was all washed down with "three hundred gallons of wine and thirty-two barrels of beer."
One of the dishes that might well have been served was the cockentryce. This was an impressive bit of legerdemain involving the sewing together of the scalded front of a pig (sliced through at the waist) and the scalded back part of a capon – or front of capon and back of pig if that was your choice…  A gap was left to insert the stuffing.
The cavity was was stuffed with a concoction made of grated bread, salt and pepper, sheep suet, saffron, ginger and beaten eggs and the sewing up completed.
The hybrid beast was then put on a spit and roasted then glazed with egg yolks, ginger, saffron and parsley or mallow juice (juice from the mucilage of leaves and flowers from the mallow species).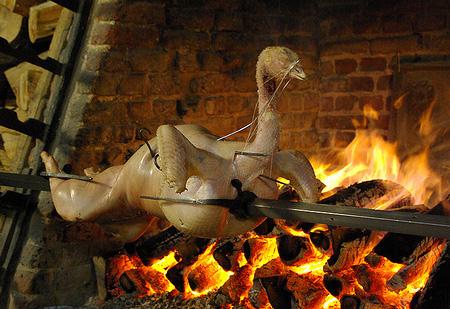 A cockentryce prepared in the Tudor Kitchen at Hampton Court Palace with a turkey front and pig hind