Another takeaway recipe special today and this time it's Sweet n Sour chicken. This is one of my favorite dishes because you can cram it full of healthy veg and help yourself to a massive portion! This is adapted from a Slimming World recipe so you can be sure that it is good for you and is one takeaway dish that won't pile on the pounds!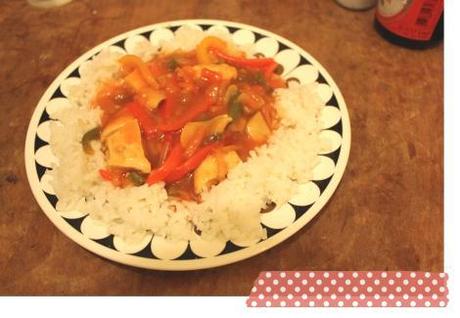 Ingredients: 500g chicken breast, Low calorie cooking spray, Salt and black pepper, 1 large onion, 1 red pepper, 1 yellow pepper and 1 green pepper, 2 large carrots, ¼ tsp Chinese 5 spice, 2 garlic cloves, 1 level tbsp cornflour, 4 tbsp tomato puree, 1 tbsp white wine vinegar, 4 tbsp light soy sauce, 150ml chicken stock, 400g pineapple. 
Slice the chicken and spray with low calorie cooking spray and season well. Stir-fry your chicken for 5-6 minutes or until cooked through before setting aside.
Spray the pan with low calorie cooking spray and add sliced onion, chopped pepper, carrot matchsticks or rounds and stir-fry for 5-6 minutes. Add the chicken to the pan and cook for a further 3-4 minutes until piping hot.
Mix 2 tbsp water with the chinese 5 spice in a bowl and add the minced garlic, cornflour, tomato puree, white wine vinegar, soy sauce and stock. Pour this mixture into the pan, stir and reduce the heat to low. Cook for 3-4 minutes until the sauce has thickened, then add the pineapple chunks.
You can serve this yummy sweet n sour dish with boiled rice or egg noodles and you can always add any extra veg you have such a sugarsnap peas, mangetout, beans, even broccoli. Plus you can try using strips of pork or prawns instead of chicken or give the meat a miss altogether and have a veggie version!